Do you know what LyricsKid is?
LyricsKid is a browser extension which is promoted at lyricskid.co. The publisher of the program is unknown and when it gets installed onto the browsers you may discover that the publisher is not verified, which basically means that it is unfamiliar and therefore should not be trusted. It has been discovered that the questionable plugin follows the footsteps of Beslyrics, OLyrics, LyricStar and similar extensions. By now our researchers have faced a few tens of these; however, there is a great possibility that others could exist as well. Our security team recommends that you delete LyricsKid because all of the mentioned applications are presented in similar manners and their publishers are unverified. This suggests that they all have been created by the same people who clearly are not interested in creating reliable, useful products.
It is highly likely that the suspicious application has been created just to bring more financial benefit to its creators. As it is made clear through the Privacy Policy, LyricsKid is supported by third parties who are likely to pay money per every click that you make. What are you meant to click on? Without a doubt it is the represented surveys, adverts, links and other offers which are most likely supported by existing adware. As our researchers have revealed, the suspicious plugin often comes packaged with adware which is not indicated in any way and so the user may be oblivious to its existence. Adware uses cookies to collect information about your virtual activity and then uses this data to flood you with personalized adverts. Clicking on these could lead you to unreliable sites, misleading scams and even malware distribution. Therefore, we recommend that you remove LyricsKid related adware as soon as possible.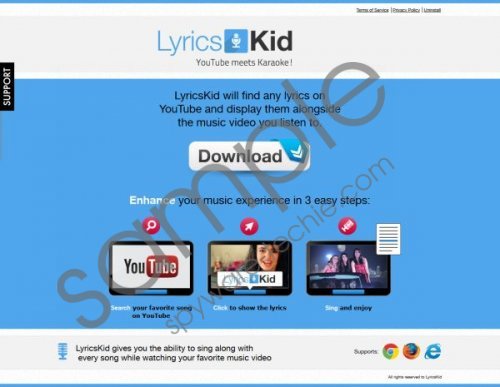 LyricsKid screenshot
Scroll down for full removal instructions
In order to delete adware you should install automatic malware detection and removal software. The files and different elements linked to advertisement-supported software are quite difficult to delete, especially if you are less experienced with manual removal tasks. Therefore, the only task you should perform manually is the LyricsKid removal. Note that if you follow the steps below you will still need to delete the advertisement-supported software!
How to delete LyricsKid?
Delete from Windows XP:
Go to the Start menu and click Control Panel.
Double-click Add or Remove Programs.
Choose the unwanted application and click Remove.
Delete from Windows Vista/Windows 7:
Open the Start menu and click Control Panel.
Move to the Uninstall a program utility.
Right-click the undesirable program and click Uninstall.
Delete from Windows 8:
Right-click on the background of the Metro UI menu.
Select All apps, click Control Panel and then Uninstall a program.
Right-click the program you wish to remove and click Uninstall.
In non-techie terms:
If you wish to remove LyricsKid from the operating system there is no question why. You must have already witnessed all of the pop-up notifications linked to the adware which often gets installed bundled with the plugin. Follow the manual removal guides presented above and then click the download button below to install the authentic Windows security tool SpyHunter to delete existing threats automatically.
Aliases: Lyrics Kid virus.