Do you know what lpcloudsvr302.com is?
If you see a message produced by lpcloudsvr302.com domain claiming that your Video Player is outdated and you are urgently suggested to update it, you should know that it is a fake message and we definitely do not recommend heeding this warning. This fake pop-up message might appear on your system if you accidentally come across the website lpcloudsvr302.com or if your computer is infected with various unwanted programs like Divx toolbar or Lyrics family applications which might seem rather useful at first, but later on it becomes clear that they produce more harm than benefit. Unfortunately, you can notice the fake pop-up warning produced by lpcloudsvr302.com regardless of your browser because it is compatible with Internet Explorer, Google Chrome, and Mozilla Firefox. However, if this message keeps bothering you, it is a signal that you have to take care of various unwanted programs residing in your computer.
Do you wonder where did all these threats come from? When you download freeware and shareware which are distributed freely on the web, there is always a possibility that some other additional software will be installed on your computer if you do not pay enough attention to the installation wizard. If you want to avoid all these bundles, select custom installation every time you install a new program.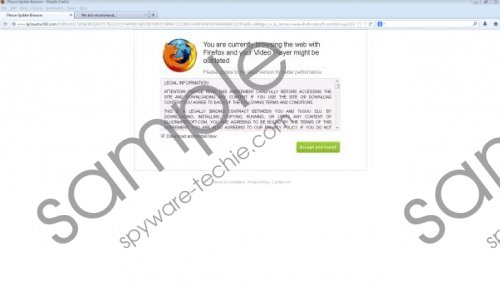 lpcloudsvr302.com screenshot
Scroll down for full removal instructions
If you have believed the message displayed by lpcloudsvr302.com domain and decided to update your Video Player by clicking OK, it is very probable that you have PC Utilities, Strombino, DealPly and even other additional applications on your system. If you had followed the installation wizard, you would have seen that all the programs, which are going to be installed, are stated there. As you have probably understood, the fake message produced by lpcloudsvr302.com seeks to make you believe that you need to update your player; however, its main purpose is to distribute various unwanted programs. We definitely recommend removing all the applications that might cause this fake warning in order to get rid of lpcloudsvr302.com domain itself.
We can help you prevent lpcloudsvr302.com fake message from appearing. You just have to remove all the programs responsible for it. If this notification started appearing after the installation of the particular program, you should get rid of it first. For this matter, you can use the instructions that we have provided below. Of course, there is an easier way; you just have to acquire a reliable antimalware tool and then scan your computer with it. We recommend using SpyHunter because we know that it is perfectly capable of detecting all the infections and removing them straightaway.
How to remove the undesirable program
Windows XP
Open the Start menu and then select Control Panel.
Select Add or Remove Programs to access the list of programs.
Locate the unwanted program on the list and then click the Remove button.
Windows 7 and Vista
Click the Start menu button.
Select Control Panel from the menu.
Select Uninstall a program.
Right-click on the application which you want to get rid of.
Select Uninstall.
Windows 8
Access the Metro UI menu.
Right-click anywhere on the background.
Select All Apps.
Find the Control Panel in the list of all applications.
Select it and then select Uninstall a program.
Right-click on the unwelcome software and then click the Uninstall button.
In non-techie terms:
If you see the message produced by lpcloudsvr302.com domain, you should not believe it because its main purpose is to lure you into downloading the setup and installing it. If you do so, various additional programs are going to be installed instead of the update. Have you already noticed various unfamiliar applications running onto your computer? You should remove them immediately.
Aliases: lpcloudsvr302 virus.