Do you know what Local Temperature is?
Local Temperature is an application that shows local weather forecast information on your desktop. However, after careful research, our malware specialists have labeled it as adware due to the third-party advertisements it may display. A lot of users do not see the potential danger of these ads and simply close the pop-up windows when they cannot see the browser anymore. But that will not stop this adware from bombarding you with more ads. If keeping your computer safe is important to you, you should not keep any application or tool on your computer that might expose you to any kind of virtual threat. From this article you will find out more about the possible danger factors as well as how you can delete Local Temperature from your PC.
Local Temperature is nothing new under the sun, actually. We have seen several identical applications, such as SevereWeatherAlerts and StormWarnings. It seems that the developer, Local Weather LLC, tries to ride the heat wave of the more and more unpredictable weather conditions as it comes out with newer clones. This adware is available for download from its official website at localtemperature.net. But, unfortunately, it might also travel in freeware bundles packed with malware infections. If you do not remember installing this application, there is a good chance you have downloaded a free software package recently. If so, you had better scan your computer for other infections right now, because there can be several in such a bundle; mostly, if it is downloaded from suspicious or unreliable websites hosting free programs. So, when you decide that you have to remove Local Temperature, remember to clean your system of all the other suspicious programs, as well.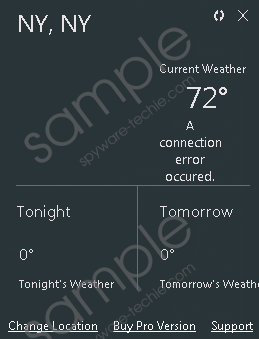 Local Temperature screenshot
Scroll down for full removal instructions
Local Temperature looks like an average tool that provides you local temperatures and weather conditions with a simple click on its icon in the tray. There are lots of trustworthy apps, though, that would be safer to use. You need to understand that this adware might be exploited by cyber criminals and used for gathering data about you and your browsing activities. This can be utilized in several ways. You might be shown targeted advertisements that may have compromised links. You might be lured into some online scam, which can result in losing some hard-earned money. And the list goes on. You need to be very careful with clicking on potentially unreliable third-party ads if you do not want more infections and possible damage to your computer. The only good solution here is removing Local Temperature ASAP, if you want to protect your system.
Here comes the best part: You can remove Local Temperature within a minute. You just need to use its uninstaller in Control Panel and you will be free from the potential threats this application might introduce you to. But, the truth is, your computer may still not be perfectly clean. In order to make sure that everything is back to normal, you should use a reputable antimalware application. It can automatically detect and remove any existing infections and safeguard your system from them.
Remove Local Temperature from Windows
Windows 8/Windows 8.1
Press Win+R and type in control panel. Press OK.
Access Uninstall a program.
Select the application in the list and click Uninstall.
Windows 7/Windows Vista
Click on the Windows button on the taskbar and select Control Panel.
Select Uninstall a program.
Find the application in the list and click Uninstall.
Windows XP
Click Start and navigate to Control Panel.
Select Add or Remove Programs.
Select the application and click Remove.
In non-techie terms:
Local Temperature is an ad-supported program that displays annoying third-party advertisement on your computer screen. These not only disrupt your online activities, but might also put in potential danger if you click on an unreliable one. This adware can also gather data about you and use them to send customized ads to your screen. If you want to avoid the possible exploitation by cyber criminals, we recommend that you remove Local Temperature from your system. If you do not want to do it manually, you always have a more comfortable solution by using a reliable antimalware program.