Do you know what Loadstart.net is?
Loadstart.net is a browser hijacker that targets users living in the USA and India primarily. If you live there, you might one day notice that the settings of your browsers, i.e. homepage and default search engine are replaced by Loadstart.net. To make sure users cannot remove it easily, this browser hijacker modifies the shortcuts of browsers it affects. As research carried out by our specialists have revealed, the Target line of all the shortcuts will be changed by adding http://Loadstart.net next to, for instance, "C:\Program Files (x86)\Mozilla Firefox\firefox.exe". Even though it will be slightly more difficult to delete the Loadstart.net browser hijacker because of these changes, you should still do that as soon as possible because it is definitely not a perfect search tool even though it has quick access buttons leading to eBay, Amazon, Facebook, Twitter and shows search results like other ordinary search engines.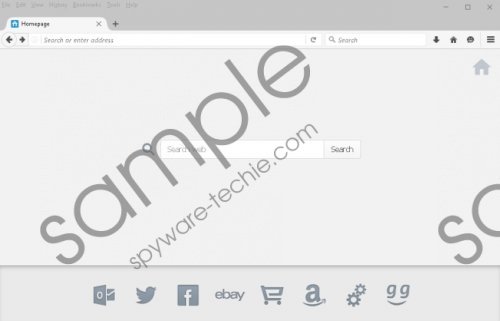 Loadstart.net screenshot
Scroll down for full removal instructions
Our specialists have revealed that users who enter a search query into the box of Loadstart.net are taken straight to plusnetwork.com. It is not a popular search tool, so it is not surprising that you do not know much about it. Unfortunately, our researchers cannot tell anything good about it either because they have found out that it might present users with the commercial content. These ads will, most probably, appear in the form of ordinary search results to make users click on them; however, you should notice immediately that something is wrong because the website you will be taken to after clicking on any of these search results will not contain the information you need. In some cases, it is extremely hard to recognize these modified search results, so users really risk clicking on them and ending up on an untrustworthy website by using Loadstart.net . Nobody tells you that all the promoted websites are bad, but you really risk entering a website that is dangerous against your will by keeping and using Loadstart.net as your default search tool.
Just like other browser hijackers, it is very likely that Loadstart.net will collect information about you too to find out more about your interests. According to our team of specialists, browser hijackers usually gather such details as search queries, ads and links clicked, browsing history, etc. In addition, more technical details like IP address, type of browser, date and time of the computer, and users' approximate location based on the location of the Internet service provider (ISP) might be recorded as well. Even though all these details are known to be non-personally identifiable, it is known that, for example, search queries might have personal details inside too if a user has ever entered the personal information into the search box. It is not very good to hand in those personal details to the developer of Loadstart.net, especially when this information will be shared with third parties. Therefore, we suggest that you delete the Loadstart.net browser hijacker right now to make sure that your privacy is safe.
Loadstart.net is based on the same web server (50.115.127.222) as a bunch of other search tools, e.g. safebrowsing.biz, trustedsurf.com, houmpage.com, and your-home-page.net, so it is very likely that the developer of Loadstart.net has created other browser hijackers too. Just like Loadstart.net, all these browser hijackers are spread by bad downloaders. It is not always easy to prevent threats from entering the computer. Also, threats are very creative and might find ways you would not even think of to enter your computer. Therefore, the installation of a security tool, in our opinion, is a must if you browse the web on daily basis.
We hope we have convinced you to delete Loadstart.net from your browsers. If so, you should do that right now. First of all, you will have to fix the shortcuts of all your browsers. Second, we suggest resetting browsers to their default settings to be sure that this browser hijacker if fully removed and will not revive.
Delete Loadstart.net
Fix shortcuts
Right-click on the shortcut of your browser.
Select Properties.
Open the Shortcut tab and locate the Target line.
Delete http://Loadstart.net. In other words make sure that the line ends in quotes, for example, "C:\Program Files (x86)\Mozilla Firefox\firefox.exe".
Click Apply.
Click OK to close the window.
Reset browsers to their default settings
Internet Explorer
Open your browser.
Tap Alt+T and open Internet Options.
Click on the Advanced tab and select Reset.
Mark the Delete personal settings box.
Click Reset.
Mozilla Firefox
Open your browser.
Tap Alt+H and click Troubling information.
Click Refresh Firefox.
Click on this button once again.
Google Chrome
Launch your browser.
Open the menu (click on the button in the top-right corner) and select Settings.
Scroll down and click Show advanced settings.
Click Reset settings.
Click Reset.
In non-techie terms:
There is a possibility that other untrustworthy applications are hiding on your computer too if the Loadstart.net browser hijacker has managed to enter the computer. You can quickly examine your system by scanning it with an automatic scanner. If you need a scanner but do not know which one to install, you should use SpyHunter. Its free scanner can be easily downloaded from this webpage.