Do you know what Loadit is?
Loadit is a ransomware infection that denies desktop access by displaying fake security notification. It is the newest addition to the Ukash virus family, and it is directly related to FBI Virus, GVU Virus, and many other malicious applications that try to convince users they have committed serious crimes and now they have to pay their way out of the prison. Needless to say, these claims are absolutely false, and users must remove Loadit from their computer without any further ado. It might be a challenging task to bypass Loadit's defenses, but you can still do it if you follow the instructions below this description.
This ransomware infection gets distributed by Trojans, so it means that your system gets infected with some dangerous threat prior to Loadit entering the PC. You will do yourself a favor if you stay away from unfamiliar websites that promote various software updates. Third-party updates often contain malicious program setup files. What's more, Loadit might also be distributed through spam email, so you should never open spam email attachments and follow the links embedded in such messages. In other words, careful web browsing habits should help you avoid such infections as Loadit. Prevention is extremely important in this case because ransomware removal is highly complicated.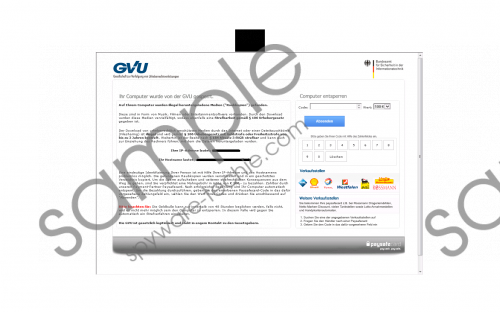 Loadit screenshot
Scroll down for full removal instructions
When Loadit enters your system, the program will block your desktop access, Windows Task Manager and every command, denying you access to almost every programs. The infection will display the following message:
Ihr Computer wurde von der GVU gesperrt.

Auf Ihrem Computer wurden illegal heruntergeladene Medien ("Raubkopien") gefunden.

Diese sind in Form von Musik, Filmen oder Entertainmentsoftware vorhanden. Durch den Download wurden diese Medien vervielfaltigt, sodas ebenfalls eine Strafbarkeit gemäß § 106 Urhebergesetz gegeben ist.
The message on your screen claims that your computer has been blocked because illegal media has been found on your hard drive. Loadit says that you have downloaded music and video files illegally, and so you have violated the federal Copyright Act. Consequently, Loadit goes on to say that you need to pay a 100EUR fine in order to avoid potential criminal sentence.
It goes without saying that these claims are not worth a dime, and you should never transfer a single cent to the people behind Loadit. As you can see, the message on your screen is in German, so it is obvious that Loadit mostly targets German-speaking users. However, it does not mean that it cannot infect your computer as well.
To remove Loadit from your system, you need to load your PC in the Safe Mode with Command Prompt. You will need to download SpyHunter prior to restarting your computer and transfer the installer file to a USB flash drive because that would be the only way to access the program in the Safe Mode. Take note that it might be particular hard to achieve in Windows 8 and Windows 8.1, especially if the secure boot function is on. If that happens to be the case, you need to address computer technicians; otherwise it would be virtually impossible to remove Loadit on your own.
How to Remove Loadit
Windows 8 and Windows 8.1
Open the Charm bar and click Settings.
Click the Power button, hold the Shift key and click Restart.
Select Troubleshoot and click Advanced options.
Press Start Settings and click Restart.
Press F6 to load your computer in Safe Mode with Command Prompt.
Enter cd.. in the C:\Windows\system32 line in the Command Prompt and hit Enter.
Type explorer.exe in another line and press Enter.
Access an external flash drive through Windows Explorer.
Launch SpyHunter installer you have downloaded previously.
Windows Vista & Windows 7
Restart your PC and press F8 several times when BIOS screen appears.
Select Safe Mode with Command Prompt and press Enter.
When the system loads, type cd.. next to C:\Windows\system32 and hit Enter.
Enter explorer.exe into the next line and press Enter.
Go to your flash drive and install SpyHunter.
Windows XP
Reboot the PC and tap F8 repeatedly once the BIOS screen loads.
Select Safe Mode with Command Prompt and hit Enter.
Click Yes on the confirmation box.
Enter cd.. in the C:\Windows\system32 when the system loads.
Hit Enter and type explorer.exe into the next line. Press Enter again.
Access the flash drive and install SpyHunter.
In non-techie terms:
Loadit is an obnoxious infection that locks you out of your computer and demands a ransom payment. You need to remove this Trojan-based infection from your system immediately. If you need any assistance with ransomware removal, please do not hesitate to contact us by leaving a comment below this description.