Do you know what LiveiStream is?
LiveiStream is a free application that is promoted as a free media manager. The program is maintained by WhiteSmoke Software Ltd., and it is a legitimate application. With LiveiStream installed on your computer, you can stream a number of supported TV channels and watch videos on various online streaming websites, including YouTube. LiveiStream also has other functions, such as spelling or grammar checker. In short, it may prove to be a useful program, but if you do not know how it arrived at your computer, it would be for the best to remove LiveiStream.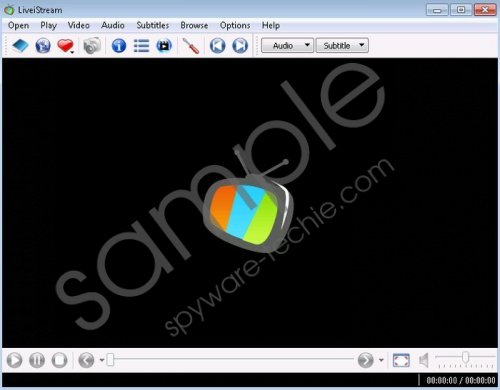 LiveiStream screenshot
Scroll down for full removal instructions
We would like to emphasize the fact that this application very often arrives bundled with browser hijackers and adware programs. It does not mean that LiveiStream or its creators are in any way related to cybercriminals and various shady schemes. The application is simply misused by malevolent third parties. That is why even if you do not access the official website via liveistream.tv, there is a chance that LiveiStream will enter your computer together with other applications.
Our computer security experts suggest that LiveiStream is often bundled with such potentially dangerous applications as Deal Keeper, Fast Start, MixiDJ Toolbar and Sweet-page.com. Deal Keep is an adware application. It means that it collects data on your web browsing habits and then bombards you with various commercial offers whenever you access online shopping malls. It is obvious that you should never click pop-up ads delivered by unfamiliar applications. What is more, sweet-page.com is a browser hijacker. It enters your system surreptitiously, changes your default browser settings and even installs a list of other programs; LiveiStream included.
Once again, it is not LiveiStream's fault that it gets exploited by cybercriminals. You simply need to tell it apart from genuinely dangerous applications. If you do know how which programs might be dangerous, you are strongly recommended to scan your PC with SpyHunter free scanner. This way you will find out which programs (besides LiveiStream) need to be removed from the system.
If you find LiveiStream useful, you can obviously keep the application on the PC. However, if it arrived with any of the aforementioned applications, it is for the best to uninstall LiveiStream through and through. If you must use this application, simply download it from the official website because you need to terminate everything that might be even remotely related to browser hijackers and/or adware applications.
How to uninstall LiveiStream
Windows 8
Slide mouse cursor to the bottom right of the screen.
Go to Settings on Charm bar and select Control panel.
Open Uninstall a program and remove LiveiStream.
Windows Vista & Windows 7
Open Start menu and select Control Panel.
Go to Uninstall a program and remove LiveiStream.
Windows XP
Click Start menu button and navigate to Control Panel.
Select Add or remove programs and uninstall LiveiStream.
Please follow the additional set of instructions to terminate all the potential threats that might be currently running on your computer. Also, if you have any further questions, please leave us a comment in the box below this description.
In non-techie terms:
LiveiStream is a program that can help you manage your media streaming. The problem is that it is often bundled with a number of unwanted applications. If this program arrived at your system without your permission, you should uninstall LiveiStream and all the other similar apps in order to protect your PC from harm.