Do you know what LightsOut is?
To watch a video on YouTube and feel like you are sitting in the movie theater seems to be an enjoyable experience that LightsOut promises you. The program says that you will be able to dim the lights while watching videos on the most popular video sites. We have decided to test the tool in our internal laboratory and found a small bad thing about it: LightsOut is an adware application that does not work at all! Ok, there is something more negative about this program, but the fact that it is completely useless alone is enough to remove the application from your system.
LightsOut not only brings no benefits for you, but the program also spies on you by collecting data on your browsing activities, and irritates you with advertisements. Just take a look at the lightsoutmode.com page and see that creators of the application make no secret of this. They say that they need to provide you with advertisements in order to keep the program free for its users. So, you allowed the useless application to enter your device, and you have your normal Internet usage interrupted by advertisements. All of this is done only to allow the creators of LightsOut to further promote this worthless program.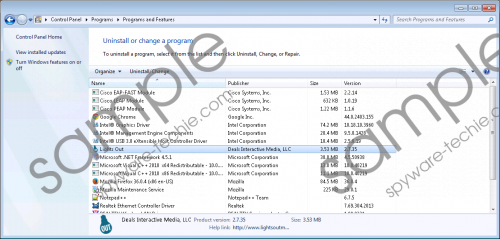 LightsOut screenshot
Scroll down for full removal instructions
Moreover, ads generated by this useless program are not only obnoxious as they interrupt your normal Internet browsing. Some of them may redirect you to unreliable sites controlled by unreliable people. They may expose you to malware distribution network, or may launch a financial scam attack on you. Whatever consequences you may face, you will be solely responsible for them. Why? Because this is stated in LightOut's Terms of Service. The document says that if any damage is done to your system, data, or software, the company will not be liable for it in any case.
As it has been mentioned, LightsOut also spies on every user that has this application installed. It does that by using cookies and web beacons. Even the list of programs you keep on your computer becomes visible to creators of the application. In addition, all the collected data about you could be shared with various people, including affiliates and service providers of LightsOut. Even your personal information could be shared, and the majority of users would not consider this acceptable. Eliminating the application should be a no-brainer decision for them.
Removal of LightsOut is quite a simple process that can be implemented in just a couple of clicks. Some people like to fight all the intruders manually, and we have prepared them a short guide explaining how to deal with LightsOut. However, please note that creators of this program use another distribution method besides allowing downloading the application from its official site. The program may also come packaged in bundles with other software programs. These bundles may even include malware, and you should scan your computer for the presence of unwanted guests. For this, you will need a trustworthy security tool and SpyHunter is the tool that we recommend using.
Remove LightsOut
Windows XP
Click on the Windows icon.
Open Control Panel.
Go to Add or Remove Programs and uninstall LightsOut.
Windows 7 or Windows Vista
Access the Start menu and launch Control Panel.
Open Uninstall a program.
Remove LightsOut.
Windows 8 or Windows 8.1
Simultaneously press the Windows key + X.
Open Programs and Features.
Uninstall LightsOut.
Windows 10
Right-click on the Windows logo.
Select Control Panel.
Go to Uninstall a program and remove LightsOut.
In non-techie terms:
LightsOut presents itself as a useful tool which may make your online video watching experience more comfortable. But this is a fake promise as the tool does not even work at the moment. It only collects your personal information and shows you third-party advertisements that could be dangerous to click. Therefore, we insist that you remove the application by following our provided instructions.