Do you know what License has Expired +1-888-303-5121 is?
License has Expired +1-888-303-5121 is a fake security notification that locks your screen and tries to make you think you need to purchase the Windows license in order to continue operating your computer. Of course, this fake alert has nothing to do with the Microsoft Corporation; it is only there to swindle you out of your money. It might have the surprise factor, but do not panic: it is very easy to remove the License has Expired +1-888-303-5121 notification from your screen and your computer. All you have to do is follow the removal instructions provided below this description.
Before you scroll down and head straight to the fake alert removal, we would like to mention a few other things. For example, we are sure that this is not the only unwanted application installed on your computer. Our research shows that this fake alert comes in bundles. A bundle is a software package where one installer carries several applications. This kind of software distribution method is very common among freeware and adware, and you will definitely encounter bundled installers in file-sharing websites. However, there are also cases when official installers from official homepages carry more than one program, too.
Again, this means that users have to be alert when they install new programs on their computers. If you fail to read all the steps on the installation wizard, you will end up having a list of unwanted applications. Naturally, License has Expired +1-888-303-5121 is just one of the many. So, how do you know how many unwanted programs you have and which annoying nuisances have to be removed? Scan your system with the SpyHunter free scanner. A full system scan will tell you everything you need to know about your current system status, and you will be able to decide which programs have to be removed from your PC right away.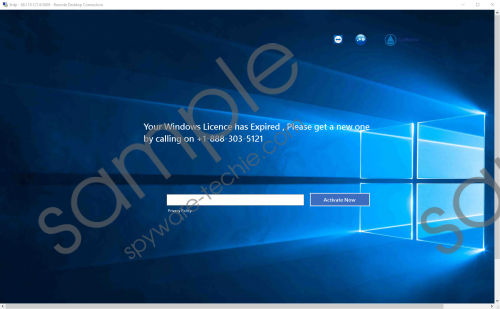 License has Expired +1-888-303-5121 screenshot
Scroll down for full removal instructions
Why is it so easy to believe that License has Expired +1-888-303-5121 is the real deal? The problem is that this notification looks just like the official expired license message that your system might display in the case your copy of Windows has not be activated. Thus, for those who do not have a genuine Windows copy, this message might hit too close to home, and they might be eager to purchase the license before they get into trouble. However, if you call the given number, you will DEFINITELY get into trouble. And it will be financial trouble.
To make matters worse, this fake alert will try its best to present itself as a legal notification. It will have buttons with the TeamViewer, Logmein, and Supremo names on them. Given how these are reputable company names, it might seem that the License has Expired +1-888-303-5121 message is somehow supported or related to these companies. If that is not enough, the note will not allow you to access your files by hogging your entire screen, and it will seem as though you really have to pay for it all to get back to normal.
However, it is possible to kill the notification via Task Manager. The instructions for that are also included below. Once you remove the executable file that launches the fake alert message, be sure to scan your PC with a security application of your choice. As mentioned, there might be several other threats on-board, too. So you have to do everything in your power to make them disappear.
If you fail to delete potential threats in a timely manner, it is very likely that it could eventually escalate into a full-scale computer infection, like ransomware, for example. And then, it will be very difficult to restore your files, get rid of the malicious program, and go back to your ordinary computer life.
Finally, if you need any assistance with malware removal, please contact us by leaving a comment below. It is always better to ask a question than wander in the dark.
How to Delete License has Expired +1-888-303-5121
Right-click the Taskbar and select Task Manager.
Click the Processes tab and highlight FreeDownloadManager.exe (32BIT).
Press the End Process button and close Task Manager.
Press Win+R and type %AppData% into the Open box.
Click OK and navigate to Roaming\Microsoft\Windows\Start Menu\Programs\Startup.
Remove the FreeDownloadmanager.exe file.
In non-techie terms:
The License has Expired +1-888-303-5121 message is a fake alert that blocks your desktop when you have a malicious .exe file dropped on your system. There might be several other infections installed on your computer, too. Such annoying security threats seldom travel on their own. Thus, when you get down to removing the License has Expired +1-888-303-5121 notification, you should also invest in a powerful computer security tool that would terminate all the other unwanted applications as well. Do not hesitate to do all you can protect your PC from harm.