Do you know what Larparus is?
Larparus is yet another adware application developed by the notorious SuperWeb LLC group that is well-known for applications such as Cantataweb, Rewin_Cinematic, ZoneTrk, RockResult and quite a few others. All of these applications are advertised as useful browser add-ons that, in one way or another, will help you save money and time while shopping online, and Larparus is no exception. None of these applications will do what it should. The only thing that they are capable of is disrupting you while surfing the web. What is even more alarming is that Larparus is known to be related to other dubious programs. Spyware-Techie.com malware experts urge you to remove Larparus as soon as possible as it is a major virtual threat.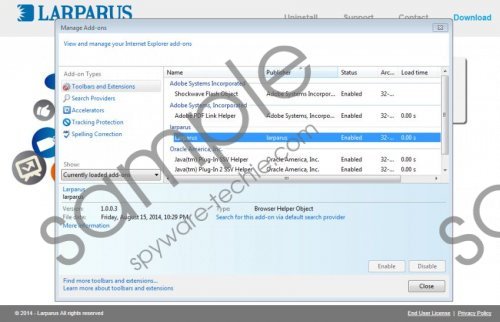 Larparus screenshot
Scroll down for full removal instructions
Usually adware programs and other questionable applications are distributed via bundled freeware. Because the direct download link on the official Larparus website does not work, it is more than likely that Larparus is distributed in that manner. It is important to pay as much attention to any installation process as possible. Always choose advanced installation as it will provide maximum information about the setup process. Moreover, you might be presented with an opportunity to disable the installation of any additional software.
Remember that dubious installers are usually acquired on fake download websites or websites associated with online piracy. Avoid such web pages and stick to the official websites only for software downloads. That will significantly reduce the risk factor of infecting your operating system. Furthermore, if you wish to eliminate the risk of infecting your PC, in this or any other way, you should implement a trustworthy malware detection and removal tool for complete security of your system.
The functionality of Larparus is not that that different from its counterparts. It will, just like other adware applications, install browser extensions to Internet Explorer, Google Chrome, and Mozilla Firefox. Extensions are interacting with many adware servers to present you with numerous adverts while you browse the web.
That is not the worst feature of Larparus. It is important to note that adverts powered by Larparus could contain redirect links to questionable websites. You could land on a website filled with numerous links to malware downloads or some fake web store created by cyber crooks to steal your sensitive data. Either way you risk a lot as long as Larparus is running on your operating system. Removal of Larparus is not even a question if you are keen on keeping your system and personal data safe.
The removal process is rather simple as most of the time uninstalling Larparus via Control Panel will do the trick. Applications like Larparus are not valuable and can only cause annoyance and exposure of your system to further infections. Unfortunately, sometimes some traces of the infection might remain, and they could be used to restore the adware application without your knowledge or authorization. In order to be sure that Larparus was removed completely, you should thoroughly check your system for any potential leftovers.
Remove Larparus from your operating system
Remove Larparus from Windows 8
Tap the Windows+Q keys simultaneously.
Now type Control Panel into the search box.
Tap Enter.
Select Uninstall a program.
Select Larparus and click Uninstall.
Remove Larparus from Windows 7 and Windows Vista
Click the Windows button and select Control Panel.
Then click Uninstall a program.
Double-click Larparus to remove it.
Remove Larparus from Windows XP
Click the Start button.
Now select Control Panel.
Click Add or Remove Programs.
Locate and remove Larparus from your PC.
In non-techie terms:
Larparus is an adware application that must be removed as it will in no way help you save money and as discussed in the article it will only expose your system to other malicious applications. If you think that manual removal is to complicated please follow the alternative instructions below.