Do you know what Kryptonite Ransomware is?
Have you found your Desktop background changed and a new file Ransome Note.txt can be found there as well? If it is the case, Kryptonite Ransomware must be inside your computer. Without a doubt, this threat has been developed by cyber criminals and enters computers illegally seeking to extract money from users. This is the main reason it encrypts users' personal files after the successful entrance as well. It encrypts pictures, documents, videos, and other valuable files, but leaves directories having ProgramData, $WINDOWS, Boot, cache2, System32, AWS, etc. in their names untouched, so we are sure that it will not ruin your Windows OS and you could use your PC normally. The only thing you could not do is accessing your personal files. Is this what you have noticed already? If the answer is yes, you must remove Kryptonite Ransomware from your computer as soon as possible to prevent the encryption of files from occurring again on your system. Your files will not be unlocked automatically, but you should not send the money required to cyber criminals either because you might be left both without money and files. Unfortunately, we cannot promise that you could get your files back, but there is still a free way to restore files which you should try out. Find more information provided further in this article.
Not all the users immediately find out that they cannot access any of their files, but all of them sooner or later notice a new Desktop wallpaper set and a new file Ransome Note.txt created on Desktop. Also, users should hear a voice message "Attention! Attention@ Attention! Your documents, photos, databases and other important files have been encrypted" when the ransomware infection is launched. The file they find created on their Desktops is a ransom note. It explains why so many files can no longer be accessed: "Your files have been encrypted using RSA2048 algorithm with unique public - key stored on your PC." Also, users find out what they can do to get their files back. They are told that they can unlock their files only by paying a ransom of $500 to cyber criminals. Some users who find important files encrypted believe that this might be their only chance to restore their files and, as a consequence, they decide to pay money. Unfortunately, what they do not know is that they might not get their files back even if they send cyber criminals money. Do not even think about disabling your firewall either even if the ransom note tells you to do so because other malicious application might be easily installed on your computer without your consent as well. At the time of writing, users can restore their files for free only from a backup, so if you have never backed up your files, your only hope is a free decryptor – it should be released one day.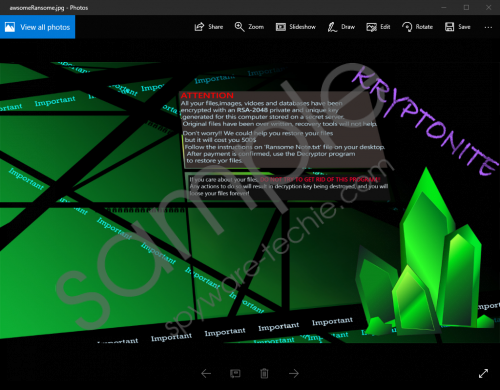 Kryptonite Ransomware screenshot
Scroll down for full removal instructions
Kryptonite Ransomware is spread bundled with a simple snake game. Evidently, it has chosen the easiest way to get onto users' computers. This also suggests that it might become very prevalent soon. As you should already know if you are reading this article from the beginning, this infection encrypts files, creates a new file on Desktop, and changes Desktop background after the successful infiltration, but these are not the only changes it makes on affected computers. Research has revealed that it also creates a new registry key HKCU\SOFTWARE\security\Kryptonite in the system registry and several new Values in existing keys. Additionally, it drops three files 1.exe, 1.jpg, and awsomeRansome.jpg in %APPDATA%. Because of this, it might be slightly harder to delete it from the system, but we are sure you will still manage to erase it yourself. Read the next paragraph to find more.
You cannot leave a single component of Kryptonite Ransomware active on your system because it might revive and continue working on your computer. To make sure that you fully delete it, consult our removal guide provided below this article. You can also remove it using an automated malware remover as well.
How to remove Kryptonite Ransomware
Tap Win+R.
Enter regedit.exe and click OK.
Open HKCU\Control Panel\Desktop.
Locate the WallPaper value and remove it (right-click on it and select Delete).
Open HKCU\SOFTWARE\Microsoft\Windows\CurrentVersion\Explorer\Wallpapers.
Right-click on the BackgroundHistoryPath0 Value and select Delete.
Move to HKCU\SOFTWARE\Microsoft\Windows\CurrentVersion\Run and delete the . Value.
Remove the Value named . from HKCU\SOFTWARE\Microsoft\Windows\CurrentVersion\RunOnce as well.
Close the Registry Editor and press Win+E to open the Windows Explorer.
Open the %APPDATA% directory by typing it in the address bar of your Windows Explorer and tapping Enter.
Delete 1.exe, 1.jpg, and awsomeRansome.jpg files.
Remove Ransome Note.txt from Desktop.
Find and erase all recently downloaded files from %USERPROFILE%\Downloads, %USERPROFILE%\Desktop, and %TEMP%.
Empty the Trash bin.
In non-techie terms:
Ransomware infections are harmful malicious applications that are developed by cyber criminals with the intention of obtaining money from users. These infections usually not only encrypt users' personal files to make them pay money, but also make major modifications on victims' computers so that they could not delete them easily. Since these infections are becoming more and more prevalent, security specialists highly recommend enabling a security application on the system. They want to encourage you to do that today.