Do you know what Kriminalpolisenheten Virus is?
Remove Kriminalpolisenheten Virus as soon as you notice that this ransomware has blocked access to your operating Windows system. The clandestine infection may enter your personal computer if it is not guarded by authentic security tools and if you live in Sweden. Even though the infection is represented as a screen-locking alert, the threat that you need to delete is the Urausy Trojan. Cyber criminals have been noticed to utilize spam email attachments, deceitful advertising, bundled downloads and similar security backdoors to spread the infection. Unfortunately, most of the time, this happens without the knowledge of the targeted Windows user, and so schemers can plan their devious ransomware attack. Once this happens, you have no other option but to get Kriminalpolisenheten Virus removed.
If you are familiar with other clandestine ransomware infections which may affect your Windows integrity, including Rikspolisstyrelsen Virus or Din Dator är Blockerad Virus, you know that the screen-locking alert blocking access to the desktop is misleading. It is presented with the credentials of Svensk National Bureau of Investigation, Polisen, Internet Police Department and Interpol. Even though these organizations have been created to fight cyber crime, you should not think that they stand behind the lock-down of your PC. Schemers have attached these credentials to fool you into trusting that you need to pay a requested fine:
Du behöver betala SEK 1000 kronor i påföljd. Du får använda voucher PaySafeCard eller Ukash för betalningen. Efter du betalar böterna och staten får pengarna, kommer din dator avblockeras inom 24 timmar.
The accusations you may face include child pornography distribution, spyware proliferation, and pirated files' storage/usage. These cyber crimes are serious, and so it would be naive to think that Police would ask you to pay a fine this small via Ukash or Paysafecard. These systems are unreliable, and so there are no questions left whether the lock-down is legitimate or not. What should you do next? Without a doubt, you need to delete Kriminalpolisenheten Virus as soon as possible.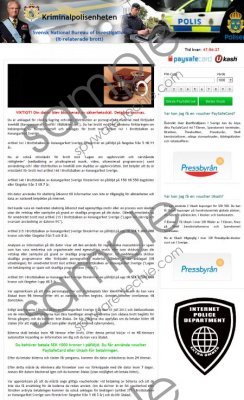 Kriminalpolisenheten Virus screenshot
Scroll down for full removal instructions
You can remove Kriminalpolisenheten Virus manually or automatically; however, less experienced PC users are likely to cause more harm by proceeding manually, as this task requires time and great technical skills. If you are not confident about your manual removal skills – install automatic spyware removal software.
Delete Ransomware from PC
Delete from Windows 8:
Launch the browser from the Metro UI start screen.
Download the automatic spyware removal tool SpyHunter.
Install the program and perform a full system scan.
Remove all found Windows infections.
Delete from Windows Vista or Windows 7:
Restart the PC.
Right when BIOS loads up – start tapping F8.
Use arrow keys to select Safe Mode with Networking.
Tap Enter for confirmation.
Download the automatic malware remover SpyHunter.
Install the tool and delete running spyware.
Delete from Windows XP:
Restart the PC and wait for BIOS to load.
Start tapping F8 for the Windows advanced Options menu.
Using arrow keys select Safe Mode with Networking and tap Enter.
Click YES when prompted with the Desktop alert.
Open the Start menu, launch RUN, enter msconfig and click OK.
Click the Startup tab and select the Disable All button. Click OK.
Download SpyHunter and immediately restart the computer.
Install the application and use it to remove malicious programs.
In non-techie terms:
If you do not remove Kriminalpolisenheten Virus from the operating Windows system, soon enough your personal computer could become paralyzed for good. Without a doubt, paying the fine is not an option, and the only way to ensure that your system is safe and ready to run is by implementing authentic security software. Please leave a comment below if you still have questions.
Aliases: Kriminal Polisenheten Virus.