Do you know what Kolobo Ransomware is?
Finding out that Kolobo Ransomware has hit your system is a shocking moment because in this attack you may lose most of your precious personal files and more. This malware infection can sneak onto your computer without your noticing it and encrypt your files to demand a ransom fee in exchange for the decryption key. Since it is quite easy to infect your PC with such a dangerous beast, it is important that you keep a backup on a removable drive, such as a pendrive. However, if you do not have a backup, it is possible that you are going to lose your files that have been taken hostage because even if you transfer the ransom fee, there is virtually no chance that you will get the decryption key or software. Our researchers say that you should remove Kolobo Ransomware as soon as possible because it also restarts automatically with every reboot, which could further damage your system.
When it comes to ransomware, it is really important that you understand how you may infect your PC because you may be able to ward off the next attack. This ransomware can mainly be found spreading on the web in spam e-mails. This is in fact one of the most widely used methods. This spam can seem to you as totally normal and legitimate based on its sender. When you look at the subject, you may even feel like you need to see it right away. Opening this mail usually does not give you any satisfaction because the allegedly "urgent" issue is not really explained. Instead, you are told to open the attachment for further information. However, when you download and run this file, this is the moment when you launch this malicious attack. This attachment can look like an image, a video, or a text file. It may also have proper and respective icon to disguise its real file type, i.e., that it is an executable file. You need to be extra careful with such an infection because even if you delete Kolobo Ransomware after noticing it, your files will be taken hostage. There is virtually no chance that you realize that you are under attack by this malicious threat and you can stop it in time.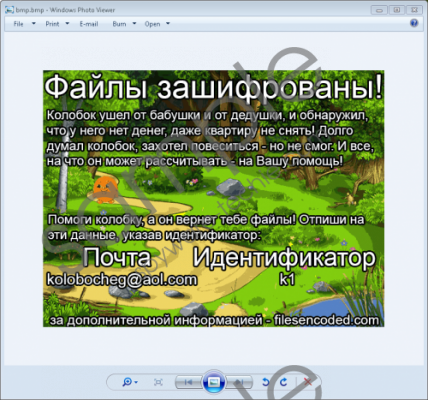 Kolobo Ransomware screenshot
Scroll down for full removal instructions
Apart from spreading in spam mails, it is also possible for a ransomware to be distributed by exploiting outdated software issues found in browsers and drivers, such as Java and Adobe Flash. Cyber criminals can use Exploit Kits that are designed for exactly that. Malicious pages are set up on the web that once loaded in your outdated browser, they trigger a malicious code that drops the infection. In this case you would definitely not see it coming as the ransomware is installed in the background. You can easily end up on such a malicious page if your computer is infected with adware or when you click on corrupt third-party content while visiting suspicious sites, including torrent, freeware, and online gaming websites.
This vicious program applies the XOR and RSA algorithms to encrypt the targeted files, which are mainly your images, music and video files, documents, archives, and other program files. Once the encryption is over, which should not take too long since built-in Windows algorithms are used, this infection changes your background image to its ransom note image that is called "bmp.bmp." The creators seemed to have some fun to come up with a ransom note like this; although, you may need a translator to understand it unless you speak Russian of course. This note explains that your help, i.e., your money is needed because a Gingerbread pie cannot otherwise buy its own apartment and separate from its parents. While this story could be regarded as funny, let us not forget about the fact that you have been attacked by these criminals who encrypted your files only to recover them after you pay them money.
You have to contact these crooks via a given e-mail address (".kolobocheg@aol.com_[user id]") and you are also told to check out filesencoded.com for more information; however, this page fails to load. You need to understand that although it is totally your business whether you choose to pay the fee or not, it is still supporting cyber criminals. In addition to this sad fact you will most likely lose your money too on top of your files because these crooks may not care too much about your encrypted files. We advise you to man up and delete Kolobo Ransomware immediately, because even if you simply restart your machine, this vicious ransomware will strike again automatically once your system loads.
You may not think but this severe threat can be quite easily removed. All you need to do is delete the related files, including the malicious executable you saved from the spam mail and the ones it created on your system. Finally, you need to restart your PC to give your system a sort of a fresh start. If you need assistance with these steps, you can refer to our instructions below. Eliminating this dangerous ransomware program may not be the end of the road for you. Unfortunately, it is possible that you will find other malicious programs on your system as well. Unless you clean all of these from your computer, your virtual world cannot be entirely safe. If you do not wish to take care of all this manually, we suggest that you install a reliable anti-malware program, such as SpyHunter.
Remove Kolobo Ransomware from Windows
Tap Win+E.
Find and bin the malicious .exe file you saved from the spam.
Open the %AppData%\Microsoft\Windows\Start Menu\Programs\Startup\ folder and bin ie_updater.exe and bmp.bmp files.
Open the %Appdata% folder and see if you can find ie_updater.exe and bmp.bmp. If so, delete these files.
Empty your Recycle Bin and reboot your computer.
In non-techie terms:
Kolobo Ransomware is a new malware threat that can hit your system hard and encrypt your major files. This ransomware replaces your desktop wallpaper with its own .bmp image that is indeed a Russian-language ransom note. This is quite a unique note actually that tells you a funny story in order to make you want to pay for your files. We practically never suggest that it is a good idea for you to pay any ransom fee to cyber criminals because there is little chance that you will really get the decryption key or tool. Unless you have a backup of your files saved on a portable drive, you may lose all the encrypted files. We advise you to act immediately and remove Kolobo Ransomware from your system. If this could be challenging for you, we recommend that you use a reliable malware removal application.