Do you know what Karo Ransomware is?
Karo Ransomware is one of the newest computer infections our experienced specialists have detected recently. Its primary goal is to obtain money from users, so it will encrypt your files the first thing after the successful entrance and then will explain to you how to make a payment to get those files back. This infection not only encrypts files on users' PCs. It has also been noticed that it checks what OS is used, checks whether the affected PC uses VirtualBox, and, finally, finds out how many processors the machine has. Additionally, it checks if the computer is connected to the Internet and then automatically downloads the TOR browser from https://dist.torproject.org/torbrowser/7.0.1/tor-win32-0.3.0.8.zip. These are only a few activities it performs on computers it manages to enter. Yes, it makes other changes on systems after the entrance as well. Therefore, our specialists usually refer to it as a sophisticated malicious application. All these modifications it makes on users' PCs make it harder to delete it manually, but it does not mean that it is impossible to do that. Read this article till the end for more information.
All ransomware infections share the same goal – to obtain money from users – and it seems that Karo Ransomware is no exception. After the successful entrance, it locks .txt, .sql, .cs, .js, .java, .c, .mdb, .ruby, and other files immediately and appends a new extension .ipygh to all of them. Luckily, it does not touch all users' files. Instead, it locks only those located in %USERPROFILE%\Desktop, %USERPROFILE%\Music, and %USERPROFILE%\Pictures. After locking files, it drops a new file ReadMe.html with a ransom note on Desktop. It tells users that they are not allowed to access personal files and, on top of that, see this new file on their Desktops because they "have been infected with ransomware." Also, users find out that the only solution to this problem is paying money to cyber criminals. First, they are told to download the TOR browser. Second, they are told to open the provided URL. Third, they have to follow the instructions and make a payment. At the time of writing, the URL box is empty – it contains only one word DATAYYYY, which tells nothing. As a consequence, it might be impossible to transfer money to cyber criminals and get files back. Actually, our experienced specialists do not think that it is a very good idea to give malware developers what they want because there are no guarantees that they will give users' files back. Also, this means that they will not stop developing malicious software soon. Therefore, you should not rush to make a payment to developers of this infection even if you are allowed to do that. Instead, delete Karo Ransomware and restore your files from a backup.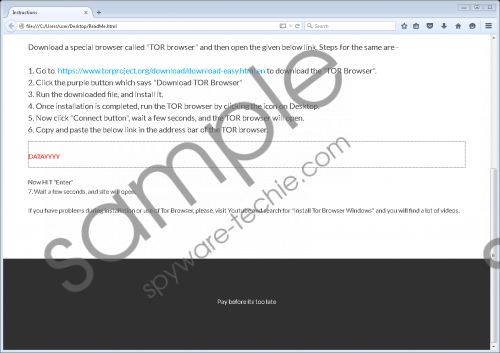 Karo Ransomware screenshot
Scroll down for full removal instructions
Karo Ransomware is not a prevalent infection, so talking about its dissemination is not easy. Of course, there is no doubt that it enters computers illegally. According to our experienced specialists, this ransomware infection is spread inside spam emails as an attachment. Also, users might download it from suspicious third-party pages too. Following the successful infiltration, it starts working on users' PCs actively. Apart from encrypting users' files, this infection connects to its C&C server and sends some details about the victim to it. In addition, it carries out commands to automatically kill several processes. Last but not least, it creates several new files, one of which has a name of a legitimate Microsoft process – svchost.exe. It borrows the name of this process to make it extremely hard to detect and eliminate it. No matter how hard it might be to erase it, remove it today without any further considerations.
It will not be easy to delete Karo Ransomware manually because you will have to delete all its components yourself. Our manual removal guide should make the removal procedure considerably easier; however, if you still realize that it is not for you to delete malware manually, you can take care of it automatically. Use a reputable scanner because an untrustworthy one downloaded from the web might install additional malware on your PC without your knowledge and, needless to say, it will not delete this threat for you.
How to delete Karo Ransomware
Open the Task Manager (tap Ctrl+Shift+Esc) and click Processes.
Kill all active suspicious processes.
Open the Windows Explorer by tapping two buttons simultaneously – Win+E.
Delete the Tor folder from %LOCALAPPDATA%\Temp, %USERPROFILE%\Local Settings\Application Data, and %APPDATA%.
Remove the malicious .exe file svchost.exe from %APPDATA%.
Remove the shortcut Notepad.lnk from the following directories:
%ALLUSERSPROFILE%\Start Menu\Programs\Startup\
%APPDATA%\Microsoft\Windows\Start Menu\Programs\Startup\
%USERPROFILE%\Microsoft\Windows\Start Menu\Programs\Startup\
%ALLUSERSPROFILE%\Microsoft\Windows\Start Menu\Programs\Startup\
%ALLUSERSPROFILE%\Application Data\Microsoft\Windows\Start Menu\Programs\Startup\
Check %USERPROFILE%\Desktop, %USERPROFILE%\Downloads, and %TEMP%.
Remove all suspicious files.
Delete the ransom note ReadMe.html from Desktop.
Empty the Recycle bin.
In non-techie terms:
Ransomware is one of the most prevalent computer infections these days, so it is only a question of time when you encounter a ransomware infection again if you do not do anything to ensure your system's maximum protection. You can do this by installing a reputable security application on your PC. Of course, it does not mean that you could become a careless computer user after enabling security software.