Do you know what Karatoh is?
Karatoh is the advertisement-supported program that you should stay away from. Even though not many computer users would download this application on purpose, many decide to try it out when offered to install the free application by third-party software distributors. The suspicious application may be installed onto your PC together with harmless and extremely unreliable programs. Needless to say, you should remove the undesirable programs without any delay. You also should delete Karatoh if this ad-supported program has found its way into your operating system. If you ignore the existence of the threat, you may be introduced to multiple security backdoors. Needless to say, your own virtual security could be attacked.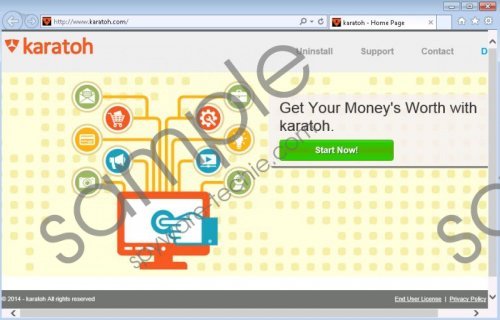 Karatoh screenshot
Scroll down for full removal instructions
It is not surprising that Karatoh is distributed by third-parties, because the application is not available from the official website karatoh.com. Even though some argue that the website has not been fully developed, or it is under maintenance, our malware researchers believe that this website is just a tool that is used to trick Karatoh victims. Even if you download the application yourself, it is unlikely that you fully understand how it works. If you did, you would remove Karatoh right away. The application is not only worthless, but also quite invasive, and you need to delete it ASAP. It can implement tracking cookies to spy on you and record information about you. Furthermore, the advertisements this application presents are highly unpredictable. The parties controlling these ads are not disclosed, and so it is unknown whether they can be trusted or not. Overall, we believe it is too risky to trust unpredictable ads, and so we recommend removing Karatoh.
Just like DigiHelp, Faster Light, Hold Page, and other clones developed by SuperWeb LLC, Karatoh is not the most dangerous infection that could corrupt your unprotected operating system. Unfortunately, more malicious threats could already be active as they could have been silently installed together with adware. If after scanning your PC, you learn that you only need to delete Karatoh, you can follow the manual removal steps. However, if other threats are active, it is best to install trustworthy, automatic malware removal software.
Delete Karatoh from your PC
Delete from Windows 8:
Tap the Windows key to access the Metro UI menu and right-click on the screen.
Click All apps, then open the Control Panel, and select Uninstall a program.
Right-click the program you have chosen to remove and select Uninstall.
Delete from Windows Vista and Windows 7:
Navigate to the left of the Taskbar and click the Windows logo to access the Start menu.
Open the Control Panel menu and select Uninstall a program to locate the installed software.
Right-click the program you want to remove from your PC and select Uninstall.
Delete from Windows XP:
Navigate to the the Taskbar, click Start, and select Control Panel.
Double-click Add or Remove Programs and open the Change or Remove Programs menu.
Select the undesirable application and click Remove.
In non-techie terms:
Our experienced malware researchers identify Karatoh as an unreliable advertisement-supported program. You must remove this suspicious application to stop the undesirable and intrusive activity. Even though the app promises to help you save money, it is likely that it will do the opposite. Use the manual removal instructions to remove Karatoh, and install automatic malware removal software to delete the rest of the running threats.