Do you know what JunkSweeper is?
JunkSweeper is a questionable program that malware experts at Spyware-techie.com advise you not to use. In fact, you should be aware that this application has been categorized by our research team as a potentially unwanted program. It has been classified in such a way mostly due to its questionable functionality and the suspicious way that it is distributed in. This application is promoted as a tool that should help you optimize your computer for a better and smoother overall performance. Unfortunately, it is not the best program for such a task. If you wish to optimize your personal computer, we highly recommend using another, more reliable application instead of this potentially unwanted program. In fact, running it on your computer is not advised since its dubious features outweigh the positive ones, to say the least. If you wish to get rid of JunkSweeper, you should follow the detailed instructions that we present below. In this article, we provide further information about the questionable functionality of this dubious application.
JunkSweeper implements quite a few of its files and registry entries all over your operating system once it enters your operating system. As soon as this happens you will be presented with an opportunity to perform a full system scan to locate and identify all the errors on your computer, which are responsible for the slower performance. The scan itself seems legitimate. It is performed in a rather short amount of time and once the scan is done, you will be provided with an extensive list of alleged errors within your operating system that should be terminated or fixed. What is unfortunate is the fact that an average computer user might not notice the fact that the whole list includes quite a few questionable results. Upon deeper investigation our team of malware experts spotted that a number alleged errors on the list include temporary files and inactive registry entries. You must know that these so-called errors do not affect your computer's overall performance in a negative or positive way. On top of that, you asked to pay for the removal service if you choose to do so. We highly advise you not to spend your money on JunkSweeper as it performs in a questionable way. Alsome this program might even randomly crash; thus, you should not rely on it to optimize your personal computer. To do so, you should use a different program. The removal of JunkSweeper should be executed as it is not a beneficial application in any way.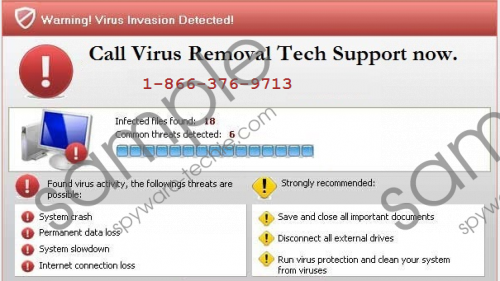 JunkSweeper screenshot
Scroll down for full removal instructions
Another feature that played a major role in the classification of JunkSweeper as a potentially unwanted program was the way it is distributed. During the research procedure, we have found out that there is no official website where you could obtain this program via a direct download link. This signifies that in most cases this dubious application is spread via bundled installers, which are well-known to impose some virtual threats. It happens to be so because software bundles are very popular among malware creators, which use them in order to spread their dubious applications. Thus, if you already have JunkSweeper running on your operating system, it is paramount to check it in order to be sure that no other questionable program is active on your computer. To safeguard your PC from getting it infected via software bundles, you need to avoid all third-party download sites as they tend to be the primary source of all dubious installers. Also, you should pay your utmost attention to every single setup step as you could be presented with an opportunity to cancel the installation of some questionable programs. Lastly and most importantly, make sure to have a professional antimalware tool running on your PC at all times since it can warn you about any suspicious websites or installers beforehand.
The removal procedure of JunkSweeper should be executed with care because a single mistake could result in an incomplete removal. This is not a situation that you want to find yourself in because leftovers of this potentially unwanted program could be the actual reason your PC might slow down. In some rare cases, this dubious application could use its traces to silently restore itself. This is why it is critical to analyze your operating system for potential leftovers linked to JunkSweeper as soon as you have performed the manual removal.
How to remove JunkSweeper from your computer
Open the File Explorer.
Go to C:\Users\User\AppData\Local.
Delete the folders called winpas, JunkSweeper, and JunkSweeperUn.
Now click the Windows button.
Type regedit into the search field and select it.
Go to HKEY_CURRENT_USER\Software\Microsoft\Windows\CurrentVersion\Run.
Remove the registry values called winpasexe and Junk_Sweeper.
Go to HKEY_CURRENT_USER\Software\Microsoft\Windows\CurrentVersion\Uninstall.
Delete the registry key entitled Junk Sweeper.
In non-techie terms:
If you believe that manual removal is too complicated for you since it involves manual registry editing, make sure to follow the instruction that we provide below. The alternative guide will help you complete delete this potentially unwanted program without encountering any problems because it will help you remove it in an automatic way