Do you know what iStreamLite is?
It is no wonder that so many users are dealing with the removal of iStreamLite. This unreliable, ad-supported program is introduced as a beneficial tool that supposedly can help you acquire videos available for streaming. This download manager might seem attractive, but it is inefficient because it does not work in a reliable way. This adware is inconsistent regarding its functionality, and if it will work at one point, it does not mean that it will work at all times. Although we remove useless programs as PUPs (potentially unwanted programs), the category we relate to this program is "adware." If you do not delete iStreamLite from your operating system, you will be exposed to ads, and they could be served using third-party software.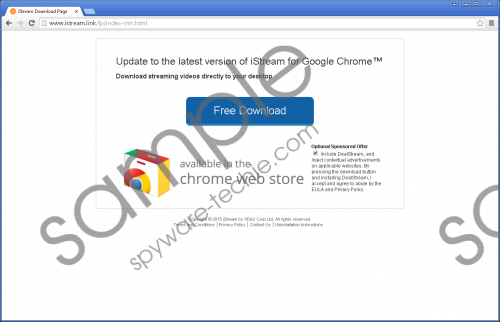 iStreamLite screenshot
Scroll down for full removal instructions
iStreamLite pretends to be a functioning downloader just so that computer users would download it. Once installed, this program has all the privileges to contact remote adware servers and inject ads. As mentioned before, ads could be injected by third-party software as well. Our research has revealed that iStreamLite could introduce other ad-supported programs that possibly require removal. We do not have information about these programs being installed silently; however, you should scan your Windows system to check for any surprises that you might have to delete. Have you found DealStream? Although this program is installed by default if you execute the installer at istream.link/lp/index-crm.html, you have the option to decline this program. XDisc Corp Ltd. – the developer – could introduce you to other suspicious programs as well. If you do not know whether these programs require removal, you should not trust them until you figure things out.
You can uninstall iStreamLite. No leftovers will be left behind, and the process is simple as that. However, this program can download extensions, adware, and possibly other suspicious programs, and their removal is unpredictable. If you have scanned your PC and you know which threats require removal, you can analyze these programs using our removal guides on this site. If you are trying to clean your system quickly and effectively, use an automated malware remover. A trusted tool can remove iStreamLite and all other unreliable programs active on your PC, as well as make your operating system protected from malicious programs in the future.
Delete iStreamLite from Windows
Delete from Windows XP
Move to the Taskbar and click the Start button on the left.
Open the Control Panel menu and move to Add or Remove Programs.
In the menu on the left click Change or Remove Programs and Remove iStreamLite.
Delete from Windows Vista, Windows 7, Windows 8, or Windows 10
Tap Win+R (simultaneously) to launch RUN and enter Control Panel.
Move to the Programs menu and click Uninstall a program.
Right-click the program you wish to remove from your PC and click Uninstall.
In non-techie terms:
iStreamLite has a deceptive look, and its services are bogus. Unfortunately, this is not the only reason to delete this program from your operating system. Our research team has found that this program also can inject ads. The worst part is that it can involve other programs to deliver ads, which means that you might have to delete several different infections. Luckily, the removal of iStreamLite is simple. Open the Control Panel menu, select the right uninstall manager, and get rid of this adware. You can check the instructional guide below. Now, other threats might be much more deeply hooked into your system, and it is wise to employ an automated remover to clean it.