Do you know what Isasus is?
Isasus might look like a reliable and useful extension for Google Chrome, but the reality is that it is just a simple adware-type extension dedicated to showing you pop-up ads while you browse the web. Its unwelcome ads are intrusive and can even pose a threat to your PC because there is no telling whether its promoted content is safe to interact with. Removing it is, therefore, highly recommended is you value your security. For additional information, we suggest reading this whole article which will tell you everything you need to know about this extension.
Our cyber security specialists have concluded that this application does nothing apart from showing ads. This program was created for the Portuguese-speaking user-base, and its official line is that it was designed to add a context menu to open articles available on Sci-hub.org. However, there is no Sci-hub.org website, at least not anymore. Therefore, the only thing this application can do is show pop-up ads while you browse the web.
Indeed, testing has shown that this program is dedicated to opening pop-up windows on top of your main browsing window to present you with ads such as the one featured on https://iqoption.com/land/start-trading/en/?aff=4445&afftrack=39354_reg&clickid=598ae37ede8d170e7a8a9f56 which promotes a shady market trading service. However, not all of the ads you get to see will be that innocent. Researchers say that due to the lack of information, there is no telling whether the advertizing partners of Isasus will supply it with safe, legitimate ads. Hence, there is a real possibility that some of the ads can be misleading and redirect you to phishing websites, questionable online shopping websites, and so on. The pop-ups can even be loaded in full-screen and obstruct your browsing experience.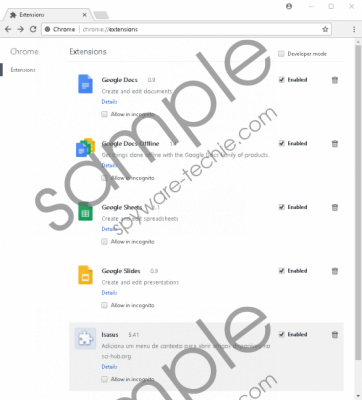 Isasus screenshot
Scroll down for full removal instructions
As far as its distribution methods are concerned, the good news is that there are not too many of them left, but there used to be several. Isasus used to have a dedicated distribution website at Sloix.com that is currently down. Furthermore, it used to be featured on the Chrome Web Store but, thankfully, it has been deleted from it due to the obvious reason that it is an adware-type extension. Nevertheless, there is one more distribution channel left, and it is the sneakiest of them all. Our cyber security experts have found that this extension is still being bundled with third-party software, and the bundles are probably featured on freeware websites that offer Isasus as a bonus, a bonus that you might not be informed about because the installers can install this extension by default. As a result, to avoid installing it, you have to select custom/advanced setting in the installation wizard and uncheck this program's respective checkbox. However, some installers might not allow you to deselect and install this extension regardless of whether you want it or not, and since Isasus is adware in nature, it is more likely that it will be installed by secretly by default.
In summary, Isasus is an extension for Chrome dedicated to showing ads that come as annoying pop-ups. These pop-ups can be loaded at random no matter what website you visit. Its ads are, thus, annoying and intrusive. Furthermore, there is no guarantee that the promoted content or services are legitimate. Therefore, you may want to remove this program, and we very much recommend doing so. If you want to get rid of it immediately, then please see the guide included below.
How to remove this extension
Launch Google Chrome.
Simultaneously press Alt+F.
Click More Tools.
Click Extensions.
Locate Isasus and click Remove.
In non-techie terms:
Isasus is a malicious program designed to deceptively enter your PC and be installed on your Chrome web browser. Its purpose is to load pop-up advertisements on websites that you visit and generate ad revenue per click. There is no guarantee that the ads will be safe to interact with, so we recommend that that you remove this extension at your earliest convenience.