Do you know what Internet Service Provider Virus is?
If your PC appears to have been locked by the FBI or CCIPS, there is a great chance that Internet Service Provider Virus has been infiltrated onto the computer. You can recognize the infection by the misleading alert which follows the lock-down of the computer. Even though it may seem as if authentic U.S. law enforcement organizations have locked your computer due to illegal actions preformed from the PC, in reality it is schemers who have paralyzed the system. If you notice this illicit activity, you should contact the authorities and delete Internet Service Provider Virus without any hesitations. Even though the task is quite complicated, you should not give up. Paying the requested fine is unlikely to help you regain control of the system, so removal is the only option you have.
There is no doubt that the lock-down of the computer has been performed illegally. First of all, if you were accused of any cyber crimes, you would not be contacted via a computer lock-down. Secondly, you would not be asked to pay fines via Ukash and Paysafecard, two unreliable money transfer systems. Our spyware researches categorized the program as malicious the moment they saw it because hundreds of similar-looking threats have already been reported. Some of the more notable of them include PRISM Virus, Mandiant U.S.A. Cyber Security Virus, and Computer Crime & Intellectual Property Section Virus. These clandestine infections share different interfaces and fake accusations. Here is an excerpt from the Internet Service Provider Virus warning:
Work your computer has been suspended on the grounds of viewing illegal content
All illegal activities on your computer, including photos and videos from webcam, stored on a police database for further identification of the individual offender.
Please ignore any accusations and fine payment demands because they are bogus. The FBI and other listed cyber security agencies have no connection to schemers who have locked the computer. Are you ready to run the system normally? Then you need to remove Internet Service Provider Virus without any hesitations. If you are thinking about manual malware removal, we recommend that you reconsider this option, as it is extremely tricky. It is best to install authentic malware detection and removal tools to have malware removed from the computer, and if you follow the instructions below, you will succeed in no time.
Delete ransomware from the PC
Delete from Windows 8:
Tap the Windows key to access the Metro U start screen.
Launch a browser and enter http://www.spyware-techie.com/download-sph into the address box.
Follow the instructions to download a reliable spyware remover.
Install the program, perform a system scan and delete malicious programs.
Delete from Windows Vista/Windows 7:
Restart the computer.
Wait for the moment BIOS loads up.
Start tapping F8 to access the Advanced Boot Options menu.
Using arrow keys select Safe Mode with Networking.
Tap Enter to confirm the choice.
Download an automatic spyware removal tool SpyHunter.
To delete malware install the application right away.
Delete from Windows XP:
Firstly restart the computer and then wait for BIOS to load.
Immediately start tapping F8 to access the Windows Advanced Options Menu.
Using arrow keys select Safe Mode with Networking and tap Enter.
Click YES on the Desktop notification.
Download SpyHunter from http://www.spyware-techie.com/download-sph .
Open the Start menu (left of Task Bar).
Launch RUN, enter msconfig and click OK.
Click the Startup tab in the System Configuration Utility.
Select Disable All and click OK.
Restart the PC and install the reliable Windows security tool to delete all existing PC infections.
In non-techie terms: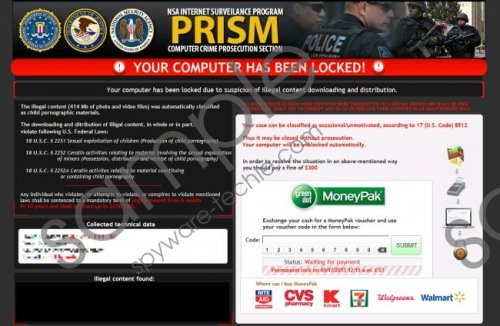 Internet Service Provider Virus screenshot
Scroll down for full removal instructions
It is important that you remove Internet Service Provider Virus from the operating Windows system as soon as possible. If you postpone this task, the ransomware could paralyze the computer for good, and if you are not ready to waste your money on expensive repairs, we recommend that you invest a little in software which could delete malware and ensure reliable Windows protection.
Aliases: Internet Provider Virus.