Do you know what Internet Cupom is?
Internet Cupom is an extension that is better known by its official name, NetCupom – Combustível para suas compras. Needless to say, this program is targeted at those users who speak Portuguese, primarily those living in Brazil. Although this extension mostly promotes Brazilian online vendors, including extra.com.br, zocprint.com.br, and walmart.com.br, we have found that users in Portugal and Angola also use this extension. According to our research team, Internet Cupom is not promoted via Chrome web store; however, you can download it directly from internetcupom.com. What is more, this program is believed to be spread by malicious installers. Needless to say, having to worry about the removal of multiple suspicious programs is much more terrible than dealing with one strange, potentially unwanted program. If you want to find out how to remove Internet Cupom from your PC quickly and successfully, you should continue reading this report.
As you install Internet Cupom – whether you do it via internetcupom.com or using third-party installers – it is likely that you will be introduced to the permissions of this Chrome extension. If you agree to have your data on the websites you visit read and modified, you will find NetCupom in the Chrome extensions' menu at chrome://extensions. If you go into "Developer mode," you will find that the ID of this extension is aogfgaifppfhgfikdjfplkpeomnllpml. You can use this ID to identify the folder containing all Internet Cupom files under C:\Users\[user name]\AppData\Local\Google\Chrome\User Data\Default\Extensions. If you want to delete Internet Cupom from your computer, you might be tempted to delete these files. If you do, you will also need to delete chrome-extension_aogfgaifppfhgfikdjfplkpeomnllpml_0.localstorage and chrome-extension_aogfgaifppfhgfikdjfplkpeomnllpml_0.localstorage-journal files located under C:\Users\[user name]\AppData\Local\Google\Chrome\User Data\Default\Local Storage. Moreover, you might have to delete the SOFTWARE\Microsoft\Internet Explorer\LowRegistry\DOMStorage\internetcupom.com registry key. Fortunately, there is an easier way to delete this extension.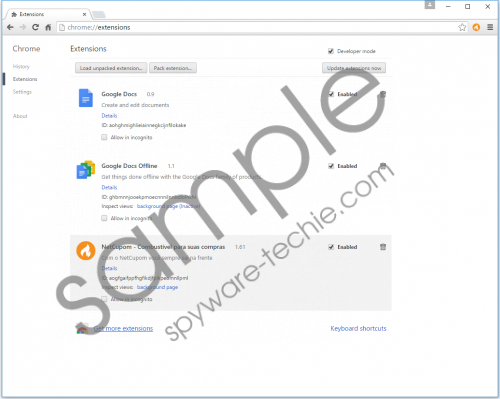 Internet Cupom screenshot
Scroll down for full removal instructions
Researchers in our team agree that Internet Cupom is quite strange and unpredictable. The Termos de Uso (terms of use) and Política de privacidade (privacy policy) documents are very vague. They do not talk about the third-parties involved or even explain how the data collected by Internet Cupom is handled and protected. It is possible that this suspicious program is not as reliable as it might appear to be at first sight. What is more, this program has the permission to introduce you to advertisements that might route to any kinds of sites. Sure, the vendors promoted via internetcupom.com might seem reliable, but are you sure that coupons associated with less reliable sources will not be displayed as well? We cannot guarantee this. On top of that, if this PUP comes packaged with malicious third-party adware, you might mistake corrupted ads for authentic coupons. Of course, if you act with caution, you might be able to evade trouble, but we suggest deleting all potential security threats, and Internet Cupom might be one of them.
Before you initiate the removal of Internet Cupom, it is wise to scan your operating system using an up-to-date malware scanner. Use this tool to learn which other threats on your PC require removal, and, of course, delete all of them as soon as possible. If the threats detected are extremely dangerous and malicious, you should think about installing antimalware software. This software should be present on your PC anyway to ensure full-time protection, but it is particularly important when it comes to the removal of malicious and complicated infections. Even if you delete Internet Cupom and the remaining threats manually, you still should install antimalware software to guarantee that malware cannot enter your operating system in the future.
Remove Internet Cupom from Chrome
Launch the browser and tap Alt+F.
Select More tools and move to Extensions (chrome://extensions).
Click the recycle bin button next to the unwanted extension and select Remove.
In non-techie terms:
Internet Cupom does not look like a threat, and it is impossible to say if every user would encounter security problems if they relied on this potentially unwanted program. Our research team thinks that removing Internet Cupom is wise simply because this PUP is unpredictable and, therefore, could be dangerous. If you discover that this program has been downloaded onto your PC along with malware, we propose using an automated malware remover. If this PUP is the only program you need to eliminate, you can use the removal guide above. Of course, even in this case, you should think about reliable Chrome and Windows protection. Please start a discussion below if you have any questions about this.