Do you know what InmotionSearch.com is?
InmotionSearch.com's promotional campaign insists that it is a legitimate search engine that will revolutionize that way online searches are performed. However, that is untrue, and all of its promises are jut sugar-coated lies. The truth is that this search engine is actually a browser hijacker that you have to remove to keep your computer safe from malicious content that this hijacker is known to promote. Therefore, it will not improve your browsing experience in any way but can get your computer infected with malware. We invite you to read this article as it contains the most relevant information about this infection. In it, we are going to cover its origins, dissemination channels, and functions. So if you have this extension on your PC, please continue reading.
Unfortunately, there is no information regarding this hijacker's developer because it did not digitally sign it. There is no information about who developed or owns the software that this hijacker comes with. The same goes for InmotionSearch.com as well. The information provided in the Terms and Conditions and Privacy Policy do not indicate a company name. The only piece of information our analysts have managed to obtain is that this hijacker is hosted on a domain owned by GoDaddy.com LLC. This company is based in the US and as our researchers say that this hijacker is mostly installed by American users. Nevertheless, our researchers have linked InmotionSearch.com to Searchadventure.net and Trendio.net that belong to the infamous SuperWeb LLC. It is an online advertising company known for developing adware. Now let us delve into this browser hijacker's distribution methods.
Our researchers have found that the software extension carrying this hijacker is distributed using several channels. This hijacker is supported by Google Chrome and Mozilla Firefox, but the extension that carries it is hosted on different platforms. Our security analysts have found that the extension for Chrome can be downloaded from InmotionSearch.com main website or the Chrome Web Store while the extension for Firefox is hosted on Mozilla's add-on's store. We advise caution while visiting the aforementioned browser-based extension stores because sometimes they feature shady software. In addition, InmotionSearch.com and its accompanying browser extensions are known to be bundled with malicious software. The resulting bundles are hosted on suspicious software distributing websites.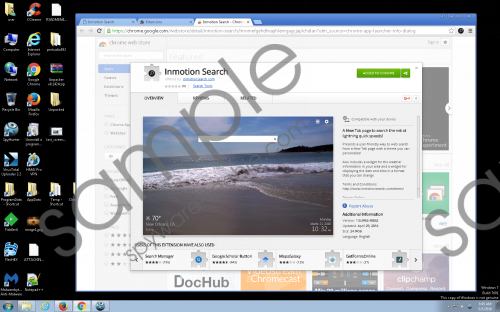 InmotionSearch.com screenshot
Scroll down for full removal instructions
Now let us take a look at what this hijacker actually does. If you install the Inmotion Search extension for Chrome, then it will hijack the new tab page and search provider. If you install the InmotionSearch NewTab extension for Firefox, then it will also hijack the new tab page and search provider but not the homepage address. Our researchers regard such actions as malicious because these extensions replace the new tab page and search provider settings without your permission. Note that this hijacker's address is Nt.inmotionsearch.com, and it is set to redirect all search queries to Yahoo.com. The search results presented by Yahoo.com are not customized, so currently this hijacker does not pose a threat to your computer's security. However, this may change at any moment. Browser hijackers tend to make the most money when they promote illegitimate websites that contain malware such as ransomware, spyware, and so on. Therefore, this browser hijacker might also promote malicious links.
Even though InmotionSearch.com currently does not modify Yahoo's search results to include their promoted links to make money, it will have to do that sometime shortly. According to our researchers, this hijacker is malicious because it does not provide you with the opportunity to opt out its installation while you install its accompanying software. Of course, the extensions it comes with are useless without the search engine. All in all, this alleged search engine is no good, and if you want your old search engine back, then we recommend that you remove it using our instructions that we have provided at the bottom.
Remove the extension from your browser
Google Chrome
Press Alt+F.
Select More tools.
Click Extensions.
Find Inmotion Search.
Click Remove.
Mozilla Firefox
Press Ctrl+Shift+A.
Choose Extensions.
Find InmotionSearch NewTab.
Click Remove.
Delete junk files
Press Windows+E keys.
In the Explorer Window's address bar, enter %PROGRAMFILES% or %PROGRAMFILES(x86)%
Find a folder named InmotionSearch, right-click on it and click Delete.
Then, enter %LOCALAPPDATA%\Google\Chrome\User Data\Default\Extensions (Windows Vista, 7, 8/8.1, 10).
Or %UserProfile%\Local Settings\Application Data\Google\Chrome\User Data\Default\Extensions (Windows XP)
Find a folder named lmnmefgehdfnaphlemgagcjaplchdian and click Delete.
Done.
In non-techie terms:
InmotionSearch.com is a search engine that comes with browser extensions for Firefox and Chrome. However, it does not allow you to opt out from making changes to your browser's new tab page and search provider, and, therefore, our malware analysts have classified it as a browser hijacker and recommend that you delete it. Note that at present InmotionSearch.com does not promote shirt-party content, but it might do that in the future because it needs to make money for its developers. However, its promoted content may be unreliable and even malicious.