Do you know what Information Vent is?
Information Vent is an adware application that most probably got installed on your computer with a list of freeware applications you have download from a file-sharing website. It is your duty to remove Information Vent as soon as possible because the longer an adware program remains on your system, the more damage it may cause. You should not underestimate this application just because it is not a genuine computer virus. If you had no intention of installing this application, and it is still there on your system, it means that this uninvited guest must be deleted at any cost.
The problem with adware programs like Information Vent is that they are highly vulnerable to third-party exploitation. Information Vent enters your PC in order to generate money for its developers via the pay-per-click system. To utilize this system, Information Vent needs to display pop-up ads for the users to click on them. Clicking third-party ads redirects you to affiliated websites, you increase their traffic, and consequently the people behind Information Vent get paid through the aforementioned pay-per-click system. It would not be much of an issue if all the links on Information Vent ads were reliable. However, Information Vent does not check what kind of content gets embedded into the ads, and if cyber criminals want to promote their content through this application, they will most definitely do so.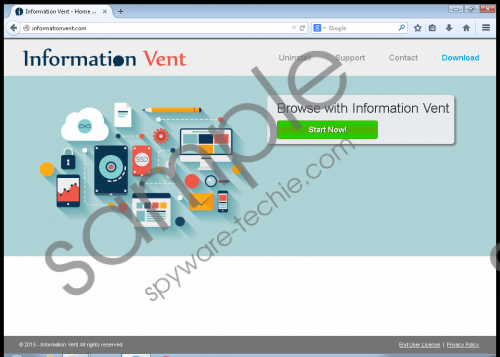 Information Ventn screenshot
Scroll down for full removal instructions
Thus, by keeping Information Vent on your computer you face a risk of malware infection, data leak and privacy trespassing. Even if the application does not intend to infect you with malware, you should not take any chances. The sooner you remove Information Vent from your PC, the better.
The good thing is that it is not complicated to delete Information Vent at all. This adware program belongs to the SuperWeb group of applications that are mostly distributed in software bundles. We might tell you that Information Vent has an official website via informationvent.com, but that would really be of no use because the direct download option is unavailable. The same could be said about any other program from this group, including Razor Web, Cooking up Coupons, Polished Patterns, and many others. They are really basic programs that are used like tools in online marketing, and they never live up to their promises, so it is more than obvious that keeping them on your PC is just a waste of your hard disk space and system resources.
Not to mention that the longer Information Vent remains on your system, the more often you will be assaulted by a flood of commercial pop-ups that will offer you to purchase something at a lower price. We have explained above why it would be a bad idea to trust this application, so when you see a pop-up with the "Ads by Information Vent" or "Provided by Information Vent" label on it, please refrain from clicking them.
You should protect your computer and your personal information from any potential exploitation by deleting all unwanted programs right now. Please refer to the removal instructions below to get rid of Information Vent, and always exercise safe online web browsing habits to avoid similar issues in the future.
How to Delete Information Vent
Windows 8 & Windows 8.1
Slide the mouse cursor to the lower right of your screen.
Click Settings on the Charm bar and go to Control Panel.
Open Uninstall a program and remove Information Vent.
Windows Vista & Windows 7
Open the Start menu and go to Control Panel.
Select Uninstall a program and remove Information Vent.
Windows XP
Click the Start menu button and navigate to Control Panel.
Select Add or remove programs and uninstall Information Vent.
In non-techie terms:
Information Vent is an annoying program that displays a lot of pop-up ads when you browse the Internet. Some of these ads might contain links to dangerous websites, so it would be for the best to remove Information Vent from your PC right now. If you fail to get rid of this application, Information Vent might eventually be used by cyber criminals to infect you with a virus or to steal your financial data. Thus, always run third-party installers with care because you can never know what unwanted programs might be included in the setup.