Do you know what Inbox Toolbars are?
Inbox Toolbars are free browser extensions which are aimed at different groups of computer users. The toolbars include Movie Toolbar, Music Toolbar, Radio Toolbar, Games Toolbar, and many other toolbars. All these applications are available at toolbar.inbox.com. They work on the most popular browsers, including Internet Explorer, Google Chrome and Mozilla Firefox. The toolbars are legitimate application and they can be used safely.
Each Inbox Toolbar is aimed at enhancing your experience on the Internet. A themed toolbar enables you to quickly access websites that are relevant to you. If you install, for example, the Sports Toolbars, you get instant links to Football League, NFL scores and rankings, NFL playoff news and other sport-related information.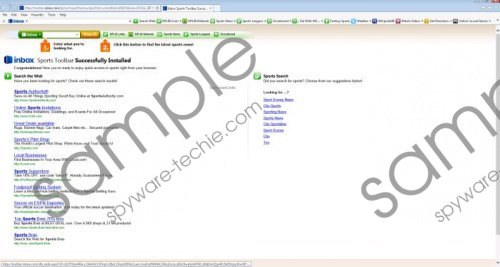 Inbox Toolbar screenshot
Scroll down for full removal instructions
When it comes to safety, it is important to note that Inbox may share your non-personally identifiable information with third parties. It is likely to happen if there is some violation or a need to solve a disagreement between you and the provider of the service.
Third parties may also collect information using Inbox services. The information is usually collected for advertising purposes, i.e., to provide advertisements and information on other websites that you visit. Third parties are required to maintain confidentiality when dealing which the information provided to them. Moreover, they are committed that the information will not be used for any prohibited activities.
It is also important that you read the terms of use that you are provided with by the installer of an Inbox Toolbar because some additional programs may be attached to the installers. Every download page of the toolbars informs you about the fact that some additional program may be installed alongside the program. The applications include PC Power Speed, Rebate Informer, Online Vault, Crawler, and some others. The analysis of Inbox Toolbars has showed that not all of the programs distributed by Inbox Toolbars are safe. RebateInformer is already flagged as unreliable program and can be removed from the computer by SpyHunter, a real-time anti-spyware program. Due to this fact, you should not install computer applications that you do not know or that have poor ratings. Always read the license agreement that you are provided with and do small research on the programs that you asked to install. By doing so, you can prevent adverse results, including computer infections and data loss.
If you feel that you do not need the Inbox Toolbar that you have installed, you can easily remove it from the PC. To do so, use the removal guide provided below. In case of any difficulties, do not hesitate to leave a comment below so that we can help you get rid of the unwanted toolbar.
How to remove Inbox Toolbars
Windows Vista and Windows 7
Open the Start menu.
Click Control Panel.
Select Uninstall a program.
Remove the unwanted application.
Windows XP
Open the Start menu.
Click Control Panel.
Select Add or Remove Programs.
Uninstall the unwanted application.
Windows 8
Press Win+R and type in control panel.
Click OK.
Select the Uninstall a program option.
Uninstall the unwanted toolbar.
In non-techie terms:
Inbox Toolbars are free browser extensions which are promoted by Inbox, an e-mail service provider. The toolbars are safe to use; however, they may be bundled with questionable applications. If you want to prevent adware and other unwanted applications, pay close attention to the information that you are provided with. In case you want to get rid of some Inbox Toolbar, follow the removal instructions.
Aliases: InboxToolbars.