Do you know what iCalc is?
iCalc is an undesirable piece of software that you might detect on your system one day. iCalc was available at the Chrome Web Store some time ago. In addition, users were also forced to install the extension if they visited parkasha.club/extension/sok.php?var=10574&alkey=60d04911d1c3a5e070a0bcc7. Luckily, it is impossible to download this extension from these sources anymore; however, there is a really huge possibility that the iCalc extension is still available for download on other suspicious web pages. Unfortunately, this software advertises itself as a useful online calculator, so users tend to install it themselves. Of course, iCalc only pretends to be beneficial. The truth is that it does not do anything good for the user. Is it worth keeping such a program? We believe not, so we highly recommend that you eliminate iCalc as soon as possible. If you do not know how to remove the extension, read this article from beginning to end, and then feel free to use instructions which are provided below the article.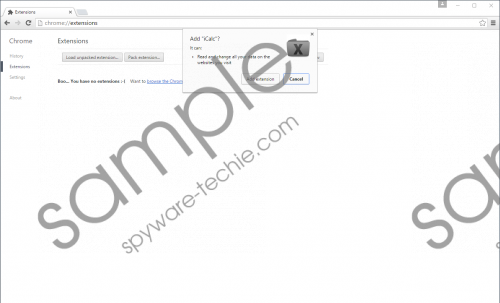 iCalc screenshot
Scroll down for full removal instructions
Our team of specialists has tested iCalc and found that this piece of software is definitely not a beneficial extension. In fact, it acts like a proxy. In other words, it redirects users to bestex9.xyz, and then straight to the website a user wants to visit (e.g. google.com). Of course, this happens very quickly, so the majority of users do not even notice that. It has been observed that iCalc executes particular commands and only then takes users to web pages they seek to access. Even though it seems that this program performs harmless activities, you should know that it is not true. Specialists say that these redirections to the bestex9.xyz proxy server means that you might start seeing commercial ads on your screen (they are capable of redirecting users to bad web pages), your privacy might be violated, and some important details might be even stolen from you. Very experienced users often notice that something is wrong with iCalc in advance because there is the following code inserted into the main file of this extension:
'ht' + 'tp' + '://' + 'be' + 'stex9.' + 'xyz' + '/' + 'sc',

'ht' + 'tp:' + '//' + 'be' + 'stex9.' + 'xyz' + '/s' + 'c',
As you have probably understood, iCalc is not a simple calculator even though it advertises itself like that. Therefore, you should erase it and install a really useful piece of software instead of it.
It has been also observed that iCalc is hosted on the 82.146.53.33 IP address and tends to connect to this server from time to time. Experts say that it might do that to get additional commands in order to be able to work properly. In addition, it might need that to download updates at regular intervals. Unfortunately, this means that iCalc might become a more dangerous program one day. Users living in Russia should be extremely cautious because the IP which iCalc is hosted on shows that it is a Russian product. It might suggest that creators of this suspicious extension might be targeted at people living in this country mainly. Of course, other users have to be cautious as well. In order to protect your system from harmful applications, install a security tool.
As you already know, it was possible to download iCalc from the Chrome Web Store. In addition, users were forced to install iCalc from parkasha.club/extension/sok.php?var=10574&alkey=60d04911d1c3a5e070a0bcc7 because they were not able to close the website unless they do that. Even though it is impossible to get this software from there these days, we still believe that it might find its way on your PC. It is very likely that it comes bundled with other programs or might simply be added after a user clicks on a wrong link available on some kind of website.
It is a must to delete iCalc as soon as possible because it acts behind a user's back and might even put his/her PC into danger. Luckily, iCalc will disappear after you remove its extension from the Add-ons Manager. Instructions are provided below. More experienced users can also delete the bjmpdighkgbbgdppjegcgpocckfclebf folder from %LOCALAPPDATA%\Google\Chrome\User Data\Default\Extensions (Windows 7/Vista/8/8.1/10) and %UserProfile%\Local Settings\Application Data\Google\Chrome\User Data\Default\Extensions (Windows XP) manually. Finally, it is also possible to eliminate this undesirable software automatically. In other words, you just need to scan the system with an automatic malware remover.
Delete iCalc
Google Chrome
Open your browser and tap Alt+F.
Select More tools.
Click Extensions.
Click on the unwanted extension.
Click on the trash button placed next to it.
In non-techie terms:
Do not forget to scan your system with an automatic tool even though you have already managed to remove iCalc fully. It is a must to do that in order to find out whether or not other undesirable programs are installed. The diagnostic SpyHunter scanner can be downloaded from our web page, so feel free to do that and then use it to scan the system.