Do you know what Hsdfsdcrypt Ransomware is?
Recently malware researchers at Spyware-Techie.com have discovered yet another ransomware application, which is called Hsdfsdcrypt Ransomware. It is yet another try by cyber crooks to profit illegally from unsuspecting Internet users. The devious scheme is not complicated. The malicious program encrypts your data as soon as it enters your computer. After that is done, you are asked to pay a large sum of money in return for decryption services. If you are eager to learn more about the complex inner workings of this ransomware program, be sure to read the rest of our report. Additionally, you will find a few recommendations on how you can improve your virtual security and a comprehensive removal guide, which you must use to delete Hsdfsdcrypt Ransomware if it is ever found up and running on your personal computer.
Hsdfsdcrypt Ransomware starts doing its dirty work as soon as it gains full access to your operating system. Without any notification or authorization, it scans your hard drive for its contents and then starts a silent encryption procedure. Due to such nature of this program, most user will have no clue that their files are being locked away. It is important to highlight the fact that all of your data is encrypted using a powerful algorithm, which is known as AES-259; thus, manual decryption is not a possibility. Our researchers have noticed that this devious program targets files types such as .txt, .doc, .docx, .jpg, .png, .bmp, .psd, .ppt, .xls, .mp3, .mp4, .avi, and quite a few others. It should not be surprising that most of your programs will no longer work as a result of this malicious program's activity. Right after your files are no longer accessible, you will notice a ransom note on your desktop. It provides basic information about what has happened to your data. If you wish to receive decryption services, you must pay a ransom of about $700 using the Bitcoin cryptocurrency. Do not abide by these demands as it is likely a hoax since cyber crooks responsible for Hsdfsdcrypt Ransomware are not obliged legally to unlock your data even if you happen to pay up. We advise you to use shadow copies or a backup of your hard drive to regain the encrypted data. It should be self-evident that you must delete Hsdfsdcrypt Ransomware without any hesitation. To do that quickly and easily, make sure to use the instructions below.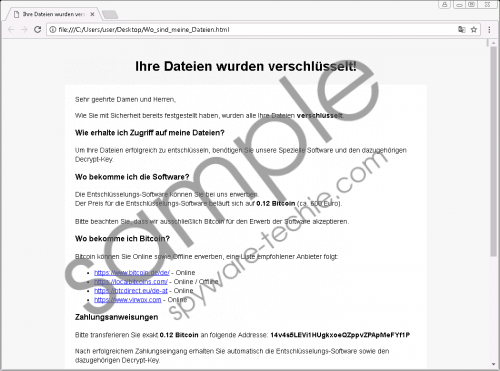 Hsdfsdcrypt Ransomware screenshot
Scroll down for full removal instructions
Even though Hsdfsdcrypt Ransomware is mostly distributed in Germany, there is a chance that users from other countries could be hit by it as well. Thus, it is crucial to take preventative measures to maintain a fully secure system at all times. During our investigation, it has been discovered that this ransomware is usually spread via spam email campaigns. In quite a few cases it comes as a deceiving .pdf file. Therefore, to avoid it, you need to practice safe browsing habits. Do not open or download any attachments that come your way from unknown sources. Also, you should obtain all of your software from its official developers' websites since third-party download sites often host bundled installers, which are the main source of dubious applications. You must also be aware of the fact that malware developers use devious marketing techniques to trick users into downloading and installing their suspicious programs. By learning as much as you can about any application you might be able to bypass dangerous setup files. To further improve your virtual security, you need to have a professional antimalware tool since it can identify and terminate any suspicious application automatically.
If you already have Hsdfsdcrypt Ransomware active on your PC, its removal should be your utmost priority. Follow the instructions below and make sure not to skip any steps; otherwise, you might have to face the outcomes of incomplete removal. There is a chance that just a few traces of Hsdfsdcrypt Ransomware could be used to restore it silently. In some other situations, leftovers could be employed so the malware in question could continue to work. Therefore, it should not be surprising that we advise you to conduct an analysis of your personal computer for anything linked to Hsdfsdcrypt Ransomware. Make sure to execute such investigation once you are done with the detailed removal guide that we present below.
How to remove Hsdfsdcrypt Ransomware from your computer
Right-click your Task bar.
Select Star Task Manager.
Click the Processes tab.
Select a malicious process and then select End Process. Remember that the name of this process is randomized.
Open the File Explorer.
Navigate to C:\Users\(your username)\Downloads.
Select a malicious .exe file and then tap Delete on your keyboard. Remember that the name of this file is randomized.
Navigate to C:\Users\(your username)\AppData\Local\Temp.
Select a malicious .exe file and then tap Delete on your keyboard. Remember that the name of this file is randomized.
Close the File Explorer.
Right-click your Recycle Bin and then select the Empty Recycle Bin option.
In non-techie terms:
If you happen to be a user that finds manual removal of Hsdfsdcrypt Ransomware a bit too complex, do not worry. Researchers at our internal labs have crafted an alternative removal guide. By following these instructions and you will be able to remove this malicious application in a fully automated manner.