Do you know what Hophitnews.ru is?
We want to inform you that Hophitnews.ru is an adware server. It comes with adware-type browser extensions and it is dedicated to randomly open your browser and load promoted websites. Not only is this action intrusive, but the websites that it promotes can pose a threat to your computer's security. Therefore, we urge you not to hesitate and remove it from your browser as soon as possible. Please read this whole description to find out more.
Let us jump right into the features and functions of Hophitnews.ru. This particular server is identical to Hrforlastnews.ru, Bhnr1.ru, and Gdslkeee1ru.ru which all come from the same developer. This family of adware servers is unlike anything we have seen before. It is very intrusive and our research has shown that it can automatically open Google Chrome and load Hophitnews.ru/energysm every 33 minutes. Additional research has shown that the browser extension that comes with this server drops a file named hophitnews.ru/energysm at %WINDIR%\System32\Tasks that creates a scheduled task. Hophitnews.ru/energysm will redirect you to one of its promoted websites each time your web browser loads it. We have observed that it promotes computer games, surveys, gambling sites, and so on. Hence, it can subject you to malicious content that can jeopardize your computer's security and even your personal privacy.
Without a doubt, Hophitnews.ru and its clones were created to show promotional links and generate advertising revenue, and that is why this adware server has more than one identical clone. All of them make up the whole advertising campaign. However, the malicious software that comes with those servers was configured to open your browser at random and load Hophitnews.ru without your permission. Of course, this action is malicious in nature, so you should consider getting rid of it. Now let us move on to how this adware server is being distributed.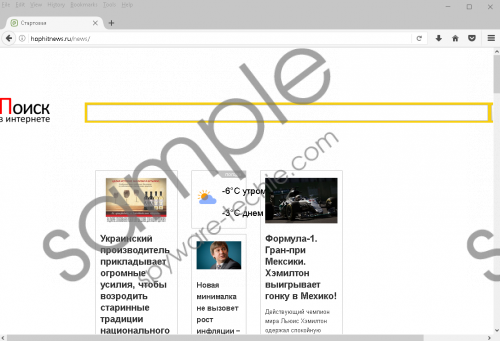 Hophitnews.ru screenshot
Scroll down for full removal instructions
However, we want to elaborate on its origins first. It is evident that it was developed by malware developers based in Russia because its main page is in Russian. However, the odd thing about it is that its search engine at Hophitnews.ru/news redirects to a Google.ua which is in Ukrainian. Regardless, most of the promoted websites are in ht Russian language. Therefore, we assume that the program that comes with Hophitnews.ru should be hosted on a website based in one of these countries. Our research suggests that an adware program features Hophitnews.ru and injects it into your browser upon infection. The application itself is not known, but we have received information that it comes as a browser extension that is installed if you download a software downloader dedicated to downloading the application of your choice. This presents an opportunity to secretly install the browser add-n or application that features this adware server. Therefore, you should avoid software distributing sites that require you to get their downloader to download their software.
In closing, Hophitnews.ru is just an adware server that generates revenue by showing you links to promoted websites. We find it malicious that it opens your browser without your authorization and forces you to few its ads. You should remove it because of that and also because the promoted websites can feature malicious content. Please consult the guide provided below.
Remove the malicious application (Internet Explorer only)
Windows XP
Click the Start menu button and select Control Panel.
Click Add or Remove Programs.
Find the application.
Right-click it and click Remove.
Windows Vista and Windows 7
Click the Start menu button.
Open the Control Panel.
Go to Uninstall a program.
Find the malicious program.
Right-click it and click the Uninstall button.
Windows 8/8.1/10
Press Windows+R keys.
Type Control Panel in the Run command Prompt and click OK.
Click Uninstall a program.
Find the program.
Right-click it and click Uninstall.
Remove the browser extension and reset your browser
Microsoft Internet Explorer
Press Alt+T.
Select Internet Options, and then click the Advanced tab.
Click Reset and check the checkbox.
Click Reset.
Mozilla Firefox
Press Ctrl+Shift+A.
Click Extensions and remove the extension.
Press Alt+H.
Select Troubleshooting information and click Refresh Firefox.
Click Refresh Firefox again.
Click Finish.
Google Chrome
Press Alt+F.
Go to More tools.
Click Extensions and remove the add-on.
Press Alt+F keys and open Settings.
Select Show advanced settings and click Reset settings.
Click Reset.
Delete hophitnews.ru/energysm
Press Win+E keys.
Type %WINDIR%\System32\Tasks in the address box.
Press Enter.
Find and delete hophitnews.ru/energysm
In non-techie terms:
Our malware analysts have concluded that Hophitnews.ru is an adware server dedicated to showing links to promoted websites. Unfortunately, the promotional campaign is not only annoying and intrusive, but can pose a threat to your computer's security because there is no way of knowing whether the promoted links are safe to click and researchers say that a small parentage of those links can be malicious. Therefore, we recommend that you remove it.