Do you know what Home.radiostreambutler.com is?
Home.radiostreambutler.com is a search tool that can modify the homepage and even the search provider of your Google Chrome browser. It is unlikely to do so without your permission, but you could be pushed into doing it even if that is not something you want. This suspicious browser hijacker is linked to a Google Chrome extension called "Radio Stream Butler." You can download it from radiostreambutler.com and chrome.google.com/webstore/detail/radio-stream-butler/hnppabjnlnodiphmldfijjkdcdaeieoo. Of course, third-party software distributors could be involved in the distribution of this browser hijacker as well. In this case, third-party malware could be spread along with the hijacker. Install a trusted malware scanner to help you figure out if any additional threats have slithered in, and, if they have, delete them ASAP. If you need guides, browse our site. Right now, continue reading to learn how to remove Home.radiostreambutler.com.
Radio Stream Butler is promoted as a tool that, allegedly, can help you "search for and watch" sports. Once you download it, a button named "RADIO" is represented via Home.radiostreambutler.com. If you click it, you are introduced to an array of different categories, including Country, Fox News, Religious, Euro Hits, Pop, Hip Hop, Morning Shows, and World News. Once you select the desired category, you are then routed to http://today.radiostreambutler.com/radios/genre/[category] to help you find the content you want. Clearly, it is not as beneficial as it claims to be. Of course, some users are likely to find it useful. Also, the easy-access links that are represented using Home.radiostreambutler.com promote highly popular sites, including Facebook.com, YouTube.com, Groupon.com, or Instagram.com. These are the reasons why some users might not even think about removing the hijacker once it slithers in.
If you have employed the search tool offered via Home.radiostreambutler.com, you know that it redirects all searchers to Google Search. Are you familiar with this search engine? You must be, considering that it is the most popular search engine in the world. Unfortunately, this search engine is employed by the creator of the hijacker not to promote Google Search but to trick you into trusting the search results, which could be modified to expose you to sponsored, promotional content. To ensure that you use this search tool no matter what, the extension ensures that both the homepage and default search provider are taken over by it. Sponsored links is not the only thing you need to worry about. As revealed via the Privacy Policy, Home.radiostreambutler.com can spy on you and even record personally identifiable information. Our research team recommends deleting the hijacker due to these reasons.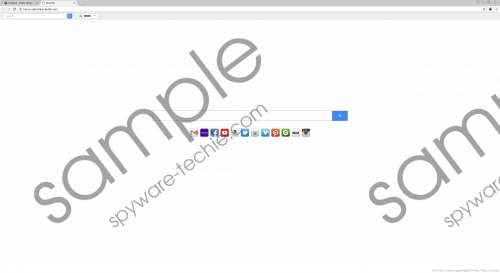 Home.radiostreambutler.com screenshot
Scroll down for full removal instructions
You can follow the instructions below if you want to delete Home.radiostreambutler.com from your Google Chrome browser. As you can see, you have to eliminate the Radio Stream Butler extension. Considering that this add-on is not all that great, it is unlikely that you would choose to save it. Even if you want to keep the add-on, that is not possible if you choose to get rid of the hijacker because both of them are interlinked. Overall, if you choose the manual removal option, you should have no trouble eliminating this threat. On the other hand, if other infections have invaded your operating system, it might be best for you to install a legitimate anti-malware tool. If you are not sure if you need to think about third-party threats, utilize a legitimate malware scanner to check your operating system right away.
Remove Home.radiostreambutler.com
Simultaneously tap Win+E to launch Windows Explorer.
Enter %LOCALAPPDATA%\Google\Chrome\User Data\ into the bar at the top.
Open the folder representing your Chrome profile name. If profiles do not exist, open the Default folder.
Open the extensions folder.
Delete the folder named hnppabjnlnodiphmldfijjkdcdaeieoo.
Go back to the profile/Default folder.
Open the folder named Local Extension Settings and then repeat step 5.
N.B. The path for Windows XP users is %UserProfile%\Local Settings\Application Data\Google\Chrome\User Data\.
In non-techie terms:
If your browser was taken over by Home.radiostreambutler.com, you have to think carefully if this browser hijacker is harmless, and if trusting it is a good idea. Considering that the extension is comes bundled with – Radio Stream Butler – is not all that useful and great (it does not stream sports as promised, and it collects personally identifiable information), it would be naive to expect for the hijacker to be better. It redirects to Google Search where sponsored content is shown. Also, it can expose you to sponsored links in a stealthy manner. Hopefully, the extension/hijacker is the only threat you are dealing with. If it is not, a reliable anti-malware tool should help you get rid of all existing infections. If you have questions regarding the removal process, do not hesitate to start a conversation in the comments section.