While Home.packagesear.ch may look like a legitimate and functional search engine, our cyber security team has concluded that it is nothing more than a browser hijacker with an agenda of replacing your browser's homepage address and make you use it for searching the Internet. The bad news is that its search results can feature promoted links and we have received reports that some of those links can pose a threat to your computer's security and your privacy. Therefore, you ought to remove it as soon as possible because it might subject you to questionable and even malicious content. For more information, please read the entire article.
Home.packagesear.ch is a product of Polarity Technologies, a company which is infamous due to how many browser hijackers it has released to date, and it does not look like there is an end in sight. This company cannot be trusted as all of its so-called "search engines" were created for web monetization and web traffic generation.
The reason our security experts have classified Home.packagesear.ch as a browser hijacker is due to the fact that it is bundled with third-party software installers and injected into the browser without your knowledge or consent. The bundled installers are said to be configured not to disclose the presence of additional content and inject Home.packagesear.ch into your browser automatically. It was set to replace the homepage address of your browser secretly which is a malicious action by definition. It can do that for Internet Explorer, Mozilla Firefox, and Google Chrome. However, it is unable to replace the homepage of Microsoft Edge browser.
Web traffic generation is a big part of this hijacker, so it can show promotional links in its search results. The problem is that you cannot be certain that the promoted content is safe to interact with. In the worst case scenario, this hijacker can get your PC infected with malicious software such as spyware, ransomware, rogue anti-virus programs and so on. Furthermore, it might redirect you to clone, scam, and phishing websites. Therefore, you should refrain from using it altogether. It is also worthy of a note that Home.packagesear.ch does not have its own search algorithm, so it redirects all entered search queries to a modified Yahoo search engine.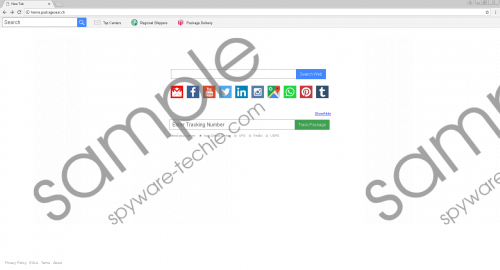 Home.packagesear.ch screenshot
Scroll down for full removal instructions
In order to present you with modified, somewhat personalized search results, this hijacker might collect some non-personally identifiable information about you. The collected information can include your browsing history, search terms entered, links clicked, browser type and version, operating system type and version, Internet Protocol (IP) address, Internet Service Provider (ISP) domain name, and so on. This information is obtained using browser cookies and web beacons and is essential to assigning targeted ads to any one user. Since the promoted content you get to can be malicious, you should not use Home.packagesear.ch as a search engine, let alone allow it to collect information about you.
Therefore, our cybersecurity experts recommend that you delete this browser hijacker as soon as you can because it poses a risk to your computer's security and your privacy. In some cases, it can redirect you to scam sites or get your computer infected with malware, so it is not a search engine you want to have. If you got it in your browser and want to remove it, please see the guide below for more information.
Removal Guide
Microsoft Internet Explorer
Open the browser.
Press Alt+T and click Internet Options.
Erase http://home.packagesear.ch/ and enter a new URL.
Click OK.
Google Chrome
Open the browser.
Press Alt+F keys.
Select Settings.
Click Set pages.
Erase http://home.packagesear.ch/
Enter a new URL
Click OK.
Mozilla Firefox
Open the browser.
Press Alt+T.
Click Options and select General.
Erase Home.packagesear.ch and enter a new address.
In non-techie terms:
Home.packagesear.ch is a newly found browser hijacker created by Polarity Technologies. It was designed to enter your computer secretly and change your browser's homepage address in an effort to make you use it for searching the web. However, its search results can feature unreliable promotional links that can jeopardize your computer's security.