Do you know what Hold Page is?
Hold Page has been designed to introduce Firefox and IE users to various online offers, savings deals, coupons, and discounts. Unfortunately, not all offers presented by this application can be trusted, because it works with undisclosed parties. Suspicious applications like this one are often implemented by schemers and unreliable parties to promote useless or malicious ads. Some of these ads could even be used for drive-by download scams. Even if this is not the risk that most users will face, you still should delete Hold Page from your web browsers. Keep in mind that an unreliable advertisement-supported program can open up security backdoors and threaten your virtual security.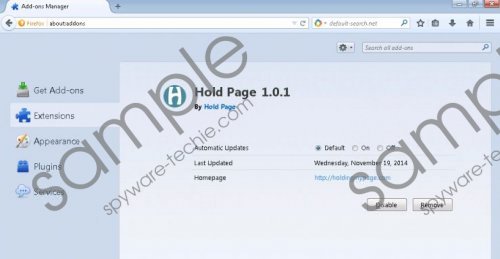 Hold Page screenshot
Scroll down for full removal instructions
Since Hold Page is not available at holdingmypage.com, it is not surprising that the application is mainly spread via software bundles. If you install the application by accident without knowing it, you may have no idea that it exists until "Ads by Hold Page" banner advertisements show up. Tags may be used to identify Daring Deals, AppEnable, EnterDigital, and other programs developed by SuperWeb LLC. Needless to say, we think that computer users should delete all SuperWeb applications, and you can find the comprehensive removal guides for most of the advertisement-supported programs created by this company on our website. In fact, most users do not need to worry about the removal of Hold Page or its clones. These applications rarely leave leftover files, and so most will succeed with the simple manual removal. What may aggravate the removal is the additionally running threats. Hold Page may be installed with other adware or malicious programs. This software may be even more dangerous, and it may be even more important to delete it.
Before you delete running computer infections, you need to remove Hold Page. Once you get that out of your way, you will need to scan your operating system to find which threats are active, and then you will need to delete them. Some of the running threats will be successfully deleted using the manual removal guides. The guides displayed below will also help you delete Hold Page. If after the manual removal a reliable scanner still detects threats, you should install automatic malware removal software.
Delete Hold Page from Windows
Delete from Windows 8:
Right-click on the Metro UI screen to open a new pane and select All apps.
In the Apps menu select Control Panel and move to Uninstall a program.
Find the program you wish to delete, right-click it, and select Uninstall.
Delete from Windows Vista and Windows 7:
Move to the left of the Task Bar and click the Windows button to open a menu.
Now click Control Panel to find more options and select Uninstall a program.
Right-click the application you want to delete and select Uninstall.
Delete from Windows XP:
Move to the Task Bar, open the Start menu, and click Control Panel.
In the menu double-click Add or Remove Programs and find Hold Page.
Click the undesirable application and select the option Remove.
In non-techie terms:
Do not hesitate to remove Hold Page, because it is not a useful program. Even though the app will introduce you to pop-up offers and banner advertisements, it does not mean that you will be provided with beneficial services. It is most likely that Hold Page ads will be used to route you to third-party sites, which is why you should not click on them. Use the manual removal instructions and install automatic malware removal software to delete Hold Page and eliminate all other threats.