Do you know what Hohosearch is?
According to our research lab team, Hohosearch is a browser hijacker. It means that this program takes over your browser, modifies its settings and then redirects you to potentially hazardous websites. Needless to say, you should never tolerate such behavior. The sooner you remove Hohosearch from your computer, the better. Yet, while you are at it, you should also consider scanning your computer with a licensed antispyware tool because there is a good chance that you have multiple unwanted applications on-board, and you simply must terminate them all because your computer's security should be your utmost priority.
This browser hijacker affects Chrome, Firefox, and Internet Explorer. It does not seem to work on the Edge browser, but that may be just a matter of time until the program becomes compatible with this browser, too. Some users may think that Hohosearch is a useful search provider, especially as it comes with additional shortcuts that lead you to Facebook, Google, Twitter, YouTube, Amazon, and other popular websites. Nevertheless, you have to remember that you get redirected to those pages via third parties, and it is very likely that all of your browsing history gets monitored and recorded. Not to mention that this browser hijacker cannot provide you with its own search engine because it makes use of the custom version of Google. Here again, your search queries get documented because browser hijackers are notorious for spying on the affected users.
As far as the company itself is concerned, Hohosearch happens to be a privately owned company that is based in Asia. Information suggests that the company serves customers globally. This also means that you could get infected with this hijacker no matter where you live. In other words, the distribution vector of this infection is not region-specific.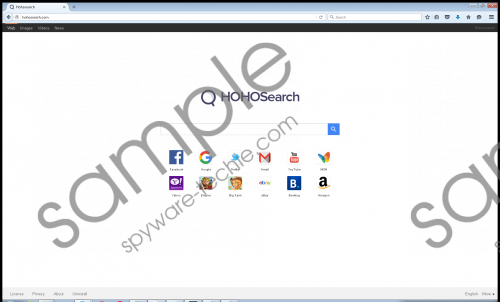 Hohosearch screenshot
Scroll down for full removal instructions
What's more, we should touch upon the distribution method employed by the application. Usually, when you download a program, you download it from its official website. Although Hohosearch tries to make you think that it is a useful product, there is no way to download and install it directly. This also means that most of the time users get infected without even realizing it. They download freeware applications that they are hoping to use on a regular basis and these freeware apps (especially if they come from third-party sources) often have additional programs that should improve your computer's functionality, but they tend to do otherwise.
So this browser hijacker usually spreads with corrupted third-party installers, and users initiate the installation process themselves. After that, the next time they open their default browser, Hohosearch is already there, looking innocent and preppy.
When this program hijacks the Firefox browser, it takes over the Firefox's profile and drops it into the %APPDATA%\Profiles directory. Mozilla actually provides support on Firefox profile management, but users may find it too complicated at first. You can expect similar intrusive behavior if you use Chrome or Internet Explorer, too.
Our security researchers suggest that this browser hijacker is closely related to other similar infections from the ELEXA family. Some of the names would be Searchatomic.com, Yessearches, MyStarSearch, and so on. You can find further information on these programs in our site. The bottom's line is that you are dealing with an infection that comes from a family of similar intruders, and it definitely knows what it is doing (or at least what it is supposed to do).
The main reason you have to remove Hohosearch from your system is that it is not safe to keep a browser hijacker. These programs may not be your worst nightmare, but they could be easily exploited by cyber criminals to promote and distribute unreliable content. For example, the search results provided by this hijacker could be modified according to the data collected on your web browsing habits. As a result, the program may display search results links that you would find more attractive.
Clicking such links would increase the traffic count on specific websites, but that may also result in a malware infection because you can never know where a third-party link could lead you. Thus, you need to do everything in your power to protect your computer and your personal information from harm.
How to Remove Hohosearch
Windows 10 & Windows 8.1
Press Win+R and the Run prompt will open.
Type Control Panel into the Open box and click OK.
Go to Uninstall a program and remove the malicious application.
Windows Vista & Windows 7
Open the Start menu and go to Control Panel.
Select Uninstall a program and remove the hijacker.
Windows XP
Click the Start button and select Control Panel.
Navigate to Add or remove programs and uninstall the application.
Reset Your Browser
Internet Explorer
Press Alt+T and go to Internet options.
Open the Advanced tab and click Reset.
Mark Delete personal settings and click Reset.
Press Close.
Mozilla Firefox
Press Alt+H and select Troubleshooting information.
Click Refresh Firefox at the top right of the new tab.
Click Refresh Firefox again and click Finish.
Google Chrome
Press Alt+F and go to Settings.
Scroll down and select Show advanced settings.
Scroll down again and click Reset settings.
Press Reset to confirm.
After manual removal, be sure to scan your PC with the SpyHunter free scanner because there might be some leftover files remaining.
In non-techie terms:
This search engine is nothing but a dangerous infection that entered your computer with the intention to make easy money. Terminate Hohosearch immediately and then safeguard your system against other threats that might be targeting your PC even now. Should you have any questions about how to protect your system from malicious infections, you can always leave us a comment below this description.