Do you know what Hihikal.ru is?
Hihikal.ru is a browser hijacker that you must have installed on your system accidentally. This infection targets particular regions, but it is true that you can get infected no matter where you live, as long as you visit the sites that are part of the hijacker's distribution network. If your browser's settings were modified without your permission, you should seriously scan your PC with a licensed antispyware tool. It is not just about this hijacker. There might be many other unwanted applications installed on your computer, too. Thus, while you are at it when you remove Hihikal.ru, make sure you terminate all the other potential threats.
There is something rather peculiar about this browser hijacker. Usually, similar programs have domains with their names on it, and they change default browser settings to those domains. However, just because this program is called Hihikal.ru, it does not mean it changes your default homepage to hihikal.ru. Not in the slightest. Instead, the hijacker uses a set of domains that users get redirected to. For instance, there are at least four websites we have found that can be used as your default homepage by this hijacker: papala.ru, mechito.ru, dopona.ru, and opatolo.ru.
In the first paragraph, we mentioned that the hijacker targets particular regions, and you can easily tell that from the domains used in this scam. From the Internet TLD, you can tell that this infection has something to do with the Russian Federation. However, the computer users in Russia are not the only ones on the criminals' target list. Our research team has found that this hijacker can also affect users in Azerbaijan, Kazakhstan, the Ukraine, and Uzbekistan. What's more, if you use any of the Russian websites that host the hijacker's installer file, you might get infected with it, too.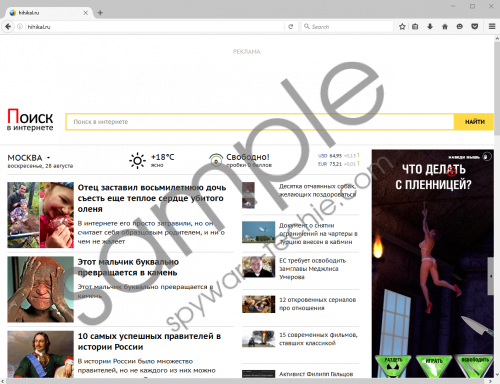 Hihikal.ru screenshot
Scroll down for full removal instructions
Needless to say, no one downloads this program directly, but there are a lot of websites that host the installer file. In fact, most of the time, users get infected by downloading fake installers from p2p websites. For instance, you might be looking for one program, but by clicking a link on a suspicious websites, you end up downloading an entirely different program, that can seriously jeopardize your system's security. What's more, it is not just about annoying freeware. Sometimes, Trojans can drop Hihikal.ru on your system, as well! If that is really the case, then manual removal will not help you much. Of course, you can still delete Hihikal.ru on your own, but if there is a Trojan involved, you will definitely have to acquire a legitimate antispyware application to help you deal with that.
On top of that, we should discuss a number of potentially unwanted programs that are known to travel with this hijacker. Our research team says that there are applications that will always come with Hihikal.ru. So you might as well look for Amigo Browser, Searchgo, Torrent Search, Kometa browser, and other unfamiliar programs on your computer if you are infected with Hihikal.ru.
It is probably easy to see that manual removal can prove to be tedious when you need to deal with this infection. It is not just about the hijacker itself, but there might be a lot of additional programs you need to take care of, and you can easily lose count if you do it on your own. Hence, get yourself a computer security program that will scan your system and will detect all the dangerous threats at once. Then, you will be able to delete those programs automatically.
What's more, by acquiring a legitimate security tool, you will protect your computer from a number of similar threats that might try to enter your system in the future. Take into consideration all your options, and make the best decision there is.
Should you have any questions about Hihikal.ru or your computer's security in general, you can always leave us a comment. Our team will be ready to assist you; just do not ignore this infection because it can result in something more dangerous and more serious! Browser hijackers may not be severe security threats, but cyber criminals often exploit them for corrupted content distribution, and Hihikal.ru could be easily used for that as well.
How to Remove Hihikal.ru
Delete the Вoйти в Интeрнет.lnk shortcut from the desktop.
Press Win+R and the Run prompt will open.
Type regedit into the Open box. Click OK.
Navigate to HKEY_CURRENT_USER\Software\Microsoft\Windows\CurrentVersion\Run.
On the right pane, right-click the hhghiiuvry value.
Choose Delete and exit the Registry Editor.
Reset Internet Explorer
Press Alt+T and open Internet options.
Click the Advanced tab and press Reset.
Select Delete personal settings and click Reset.
Click Close.
Reset Firefox
Press Alt+H and open Troubleshooting information.
Click Refresh Firefox at the top right of the new tab.
Press Refresh Firefox again and click Finish.
Reset Chrome
Press Alt+F and open Settings.
Click Show advanced settings at the bottom of the page.
Scroll down and click the Reset Settings button.
Click Reset.
In non-techie terms:
This computer infection will change your browser settings to redirect you to affiliated websites. Hihikal.ru does that to make easy money, but that can easily expose you to dangerous content, and in the end, you could get infected with very dangerous programs. It is possible to destroy a computer system or lose all of your files when you get infected with malware, so you should get rid of Hihikal.ru before it is too late.