Do you know what Hello Ransomware is?
Hello Ransomware is not the kind of program you want to say "hello" to as it can encrypt all your important personal files, including your pictures, videos, documents, and archives as well. Our researchers say that this malware infection is based on a well-known threat called Xorist Ransomware. Fortunately, malware experts have already found a way to hack this ransomware and a free file recovery tool has been made available on the web for victims to download and use to decrypt their files. Thus, you do not need to panic about losing your files to this particular malicious attack. Still, it is important to remember that saving regular backup copies could save you from the possible devastation of the next ransomware attack unless you decide to protect your PC with a proper security program. We advise you to remove Hello Ransomware as soon as your files are safely decrypted.
There are a couple of possible ways for this ransomware program to slither onto your system but we assume that it is most probable to come in a spam e-mail. This threat can be spread as a malicious attachment that may appear to be a photo, a document, or even a .zip archive. However, when you click to run this file, it simply activates this malicious attack and you will only realize this by the time all the targeted files have been encrypted. In other words, it is essential that you do not open questionable e-mails, let alone their attachment. It is always safer to write a mail to the sender to figure out whether the e-mail and its attachment were really meant for you. This spam can be quite convincing and misleading so no wonder even more experienced users could also fall prey to it.
Such a spam can appear to be totally normal without any symptoms of being malicious or dangerous. Obviously, the subject will not reveal its true identity and will not say "This is a ransomware spreading spam mail, please do not open!" It most probably relates to an urgent-looking issue instead, such as suspicious transactions on your bank account, wrong credit card details you may have given while shopping online or when supposedly booking a hotel room, and the like. Please be aware that by the time you finally delete Hello Ransomware and all the related files, your personal files will still be encrypted and practically useless. This time you are only lucky that it is possible to recover your files by using a free decryptor. But even if such a tool is available on the net, we advise you to ask a professional or a friend who has proper IT skills because downloading this tool could have certain risks as the web is filled with rogue programs and fake tools that could cause further security issues for you if you are not careful enough.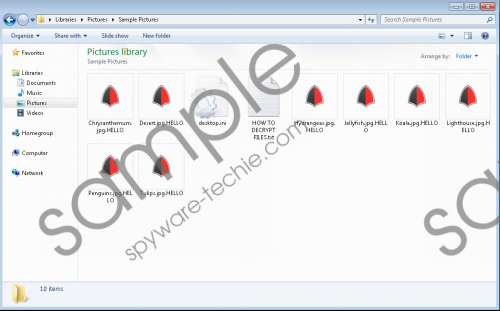 Hello Ransomware screenshot
Scroll down for full removal instructions
Our research shows that this ransomware infection uses the TEA, short for Tiny Encryption Algorithm, in order to encrypt the targeted files that include all your pictures, videos, documents, and more. The affect files get a new extension appended, ".HELLO," which makes it clear which ransomware has just hit you and to what extent. The ransom note file, "HOW TO DECRYPT FILES.txt," is created in all the folders where files have been encrypted as well as in the Startup directories.
When this malicious program finishes its vicious operations, it displays an error pop-up message that contains the same ransom note text as the .txt file. This note informs you that your files have been encrypted and the only way for you to recover them is to pay for the decryption key. You have to transfer 0.05 Bitcoins, around 191 USD, to a given Bitcoin wallet address. However, you should not think about this for a second because there is a free tool on the web that can actually decrypt your files for free. Of course, we need to mention how important it is for you to have regular backups saved on a removable drive or to cloud storage. Otherwise, in the case of a more severe ransomware threat, you could lose all your files. But right now, let us tell you how you can remove Hello Ransomware from your system.
The good news is that this infection does not lock your screen or block your system processes either. So you can easily close this ransom note window and eliminate all the files that can be associated with this attack. If you prefer manual removal, you can use our instructions below this article as a reference. Keep in mind that it is best to apply the free decryptor tool first and then take care of this ransomware. Protecting your computer against malware threats should be a priority if you want to enjoy peace of mind while being online or even offline. Therefore, we suggest that you download and install a trustworthy malware removal program, such as SpyHunter.
Remove Hello Ransomware from Windows
Tap Win+Q and enter regedit. Hit the Enter key.
Delete "HKLM\SOFTWARE\Wow6432Node\Microsoft\Windows\CurrentVersion\Run\Alcmeter" value name.
Close the editor.
Tap Win+E.
Delete these ransom note text files from the Startup directories:
%ALLUSERSPROFILE%\Start Menu\Programs\Startup\HOW TO DECRYPT FILES.txt
%APPDATA%\Microsoft\Windows\Start Menu\Programs\Startup\HOW TO DECRYPT FILES.txt
Delete all ransom note files from folders as well as the malicious executable file in your %Tempt% folder (it may have a random name).
Delete suspicious files you have saved lately.
Empty your Recycle Bin and reboot your system.
In non-techie terms:
Hello Ransomware is a new malware threat that is capable of encrypting your files and extort money from you to get them decrypted. Similarly to other ransomware infections, this malicious program also attacks your personal files to make them count. However, our researchers say that this ransomware has already been hacked by malware researchers and there is a free file recovery tool on the web that you can use to decrypt your files that have been taken hostage. Since downloading and using such a tool have their own risks, we advise you to ask an expert user to help you out if you do not consider yourself an advanced user. Once you have recovered your files, we recommend that you remove Hello Ransomware right away. If you want to prevent malicious attacks from happening on your PC, we advise you to install a professional anti-malware program before it is too late.