Do you know what Happy Cloud is?
No matter how cute Happy Cloud sounds as an application name, it is still, in reality, a worthless piece of adware. The latest version of Google Chrome already blocks this app, which in itself makes it suspicious. If you are infected with this adware, it is more than likely that you have additional threats on your system. Having one adware program on your computer is more than enough to present you with potentially dangerous third-party contents. However, having a bunch of malware applications might have catastrophic results with regard to your virtual security, including your privacy. That is why we think it is essential to know why and how you can remove Happy Cloud from your PC.
Happy Cloud belongs to the SuperWeb family of useless adware applications that includes Walermis, Qwebber, and Dig Deep, which are also recent members. They are not only very similar in function, but their websites are also identical. Visiting them feels like being on a copy+paste site with a name and label change. The official website for Happy Cloud can be found at happycloudsite.com, but the application is not available for download. Instead, this adware uses freeware bundles to spread over the net. Keep in mind that not every software bundle can be trusted. Some of them can include malicious software along with legitimate free software. If you end up downloading such a bundle, there is a good chance that you have several security issues at the same time. Not addressing those may result in further infections or privacy breaches. That is why it is so important to scan your system using a reliable online scanner after deleting Happy Cloud.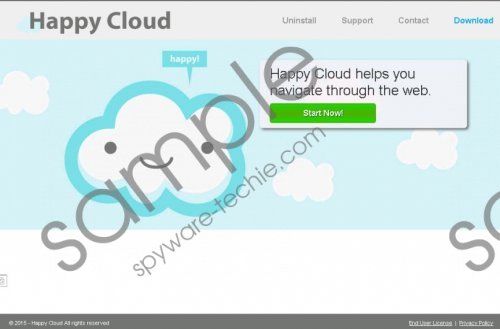 Happy Cloud screenshot
Scroll down for full removal instructions
This adware is not unique in any way. It simply does what other ad-supported programs do: It displays third-party advertisements. While these can be rather annoying and disruptive, they might also introduce you to malicious content. You may think that it is easy to avoid clicking on these ads, but you need to know that schemers might exploit this adware and display their own ads in order to take you to websites that are operated by them. They may use information gathered by this adware program about your online activities to figure out what types or brands of products you may be interested in to buy. They are very resourceful when it comes to making easy money by scamming people; so, obviously, there are plenty of ways they can harm you or your computer if you land on their sites. We advise you to stay away from any of these ads, but, most importantly, make sure you free your system of Happy Cloud.
There is one good thing about Happy Cloud though, the so-called silver lining every cloud is supposed to have, and that is the ease of removal. Even if you are not an experienced computer user, you can uninstall this adware with a few clicks. If you follow the steps below, you should have no problem doing so. However, if you prefer automated solutions and want to be certain that all the security issues are dealt with, we recommend using a reliable antimalware program. If you keep it updated with the latest malware definitions, you can be sure that your computer is protected from all known infections.
How to remove Happy Cloud
Windows XP
Click Start and select Control Panel.
Access Add or Remove Programs.
Select the unwanted application and click Remove.
Windows 7 & Windows Vista
Access the Start menu and go to Control Panel.
Click Uninstall a program.
Select the unwanted application and click Uninstall.
Windows 8 & Windows 8.1
Move the mouse cursor to the right end of the screen and select Settings on the Charm bar.
Click Uninstall a program.
Select the undesirable application and click Uninstall.
In non-techie terms:
Happy Cloud is an advertising-supported program that might put your system at risk by showing possibly unreliable third-party advertisements. Clicking on an infected ad could lead you to more malware infections or even online scams. The presence of this adware may also mean that there are other threats on your system to worry about. If you want to keep your system clean and operational, we suggest that you use a trustworthy malware remover that will automatically take care of all your issues and protect your PC from future attacks.