Do you know what GuardBytes Plus is?
GuardBytes Plus is a fake AV. Are you surprised? Many computer users are, because the clandestine threat looks just like any other antivirus application that offers legitimate malware detection and removal services. Unfortunately, the application is distributed using illegal activity, and it presents completely fictitious and unreliable information. This false information is presented so that you would pay $64.95-99.95 for a license of a completely worthless tool. Instead of wasting your money, you need to delete GuardBytes Plus, because this rogue will not give you anything useful in return. If the removal of this rogue confuses you, we strongly recommend reading this report.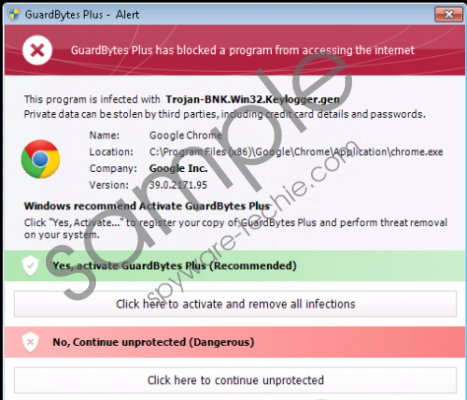 GuardBytes Plus screenshot
Scroll down for full removal instructions
Our malware researchers link GuardBytes Plus to the infamous family of rogue anti-spyware software known by the name Braviax. A-Secure 2015 and AVbytes Win 7 Antivirus 2015 (other versions include AVbytes Win 8 Antivirus 2015 and AVbytes XP Antivirus 2015) are just a few of the many rogue AVs that may be active as well. Even though the names of these threats are different, they all run in the exact same manner. Once these threats are infiltrated, which is usually done silently and illegally, users cannot run executable files, and this stops them from removing the rogue or doing anything else. Unfortunately, this is also what confuses users about the legitimacy of GuardBytes Plus. Some think that the non-existent infections reported the GuardBytes Plus scanner are real, and that they are responsible for the system's paralysis. In fact, your operating system will start running normally only after you delete the rogue.
A few examples of the fictitious GuardBytes Plus notifications rushing users to delete fake infections
Security hole detected!
A program is trying to exploit Windows security holes! Passwords and sensitive data may be stolen!

GuardBytes Plus has blocked a program from accessing the internet
This program is infected with [infection name]
Click "Yes, Activate…" to register your copy and perform threats removal on your system.
The fake GuardBytes Plus notifications are quite convincing, and they are presented alongside the bogus scanner reports listing a bunch of scary threats that supposedly require removal. Of course, the fact that an unfamiliar security tool is scanning your computer and offering you to delete malware should help you figure out that GuardBytes Plus is a rogue. Do you know how to delete this rogue from your operating system? The manual removal option is very difficult and time consuming. If you do not have the right removal skills or time, we recommend installing an automatic malware removal tool that will help you remove GuardBytes Plus and other running threats in no time.
Remove GuardBytes Plus from Windows 8.1
Click the Power Options button on your Metro UI start screen/login screen.
Select Restart and click Troubleshoot.
Move to Advanced options and click Startup Settings.
Click the Restart button and select F5 to enable Safe Mode with Networking.
Go to http://www.spyware-techie.com/spyhunter and click the Download button.
Download and install an automatic malware removal tool that will delete GuardBytes Plus and all of other infections active on your PC.
N.B. Scroll down the page to find the removal instructions that will help you delete GuardBytes Plus from Windows XP, Windows Vista, and Windows 7 operating systems.
In non-techie terms:
The rogue antispyware GuardBytes Plus cannot provide you with beneficial services, so you need to delete it without even thinking about paying money for its full version. If you spend your money on this fake AV, the fictitious threats will be gone; however, your virtual security will become extremely vulnerable. If you do not delete GuardBytes Plus, this threat could let in more malicious threats. Furthermore, it could demand money from you again. Do not put yourself into this situation and remove GuardBytes Plus as soon as it takes over your PC. Make sure to install authentic security software as well, to ensure that no other threat can attack your operating system in the future.