Do you know what Go.padsdel.com is?
Go.padsdel.com is a very annoying browser hijacker. If your computer is infected with this malware, you may find that you get redirected to different suspicious websites while you are trying to enjoy your web surfing experience. Not only is this absolutely distracting, but it also may put your virtual security in danger by the exposure to potentially unsafe third-party web content. Since you may not remember installing a tool that has made the necessary changes in your browsers, it is most likely that this infection slithered onto your computer in a bundle. Because of its presence your browsing experience will constantly be influenced and ruined unless you remove Go.padsdel.com right now. In order to understand what this infection might hold for you and your system, please continue reading.
Our researchers have not found a promotional website where you could download a standalone installer for this hijacker. This can only mean one thing: Go.padsdel.com travels bundled. This method was originally invented to help software developers to support their work so that they can offer free or discounted products. So they started to include a few third-party ad-supported tools and applications, but all these were legitimate ones. However, schemers saw a great opportunity here and started to create their own bundles and packed them with several malicious program installers. Their adware programs and other infections are totally unreliable and most of the time they can be harmful to your computer either directly or indirectly.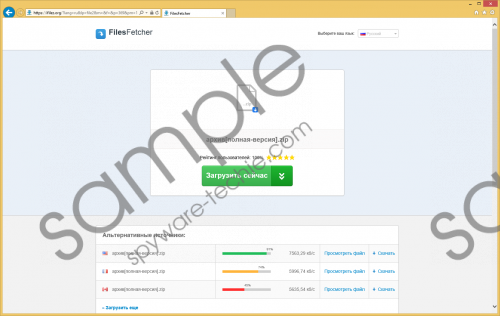 Go.padsdel.com screenshot
Scroll down for full removal instructions
Most users do not even realize when or how they infect their computers with malware. Therefore, it is important for us to talk about this as well. As a matter of fact, the main problem is that most people do not find it dangerous to land on totally unfamiliar or suspicious-looking websites because they may not be aware of the potential dangers. Bundles that contain malware infections can be downloaded from file-sharing websites, including freeware, shareware, and torrent sites. These pages usually contain lots of tricky and unsafe third-party ads. We advise you to keep away from them because one wrong click can have harmful results. You can download a bundle of malware that may include adware applications, browser hijackers, and even backdoors. The latter one you would not even realize because backdoors tend to hide on your system and they are quite dangerous infections, too. The other ones are less dangerous types of infections and they may be noticed right away as they may start displaying advertisements or alter your browser settings. If you have noticed anything similar, you should remove Go.padsdel.com and run a system malware scan right afterwards. That is the only way for you to know if there is any other danger lurking on your computer.
Although you can also detect certain threats manually if you open up your Control Panel and check the installed programs list or the extension lists in your browsers. You will find most of the adware applications, browser hijackers, and potentially unwanted programs as well this way. Always make sure that you know what you are removing before you accidentally get rid of some important system file, for example.
You need to be very careful with this browser hijacker because it can redirect your current page any time. It hijacks your home page as well so when you launch your browser some unfamiliar and potentially unreliable website will come up. You will not even see Go.padsdel.com in the address bar of your browser because it always uses redirects. But this hijacker can also come up as a search engine; however, we recommend that you never use it to search the web. This hijacker can alter results and show you affiliated website links and ads among the normal search results. You should never click on any content whenever you end up on suspicious or malicious websites because you could easily infect your computer this way or land on a malicious site with the risk of being scammed out of your money.
If you want to make sure that your computer is secure, you need to remove Go.padsdel.com right now. In order to make this infection disappear, you need to set your home page URL settings back to default or simply overwrite them. It is possible that this browser hijacker only affects Internet Explorer, but, just in case, we have prepared a guide for all the main browsers. Please follow our instructions below if you are not familiar with browser settings. Also, keep your operating system and drivers always updated, which can help you protect your computer.
Go.padsdel.com Removal from Browsers
Internet Explorer
Tap Alt+T and select Internet options.
Click the General tab and click Use default or overwrite the home page URL.
Press OK.
Google Chrome
Tap Alt+F and select Settings.
In the On Startup section, click Open a specific page or set of pages.
Click Set pages and overwrite the home page URL.
Remove the unwanted URL and click OK.
Mozilla Firefox
Tap Alt+T and select Options.
Select General on the left.
Click Restore to Default or overwrite the home page URL.
In non-techie terms:
Go.padsdel.com is a potentially dangerous browser hijacker that mostly infects Internet Explorer. This hijacker can redirect you to different websites that may present to you unsafe content. It can also redirect you any time while you are browsing the web. If you find an unfamiliar search engine in your browser do not engage with it because it may be this hijacker in disguise. As a search engine, it can modify the search results and show you third-party ads and sponsored links. This infection most likely arrives with a bunch of other malware threats on board; therefore, it is vital that after you remove Go.padsdel.com, you take care of the other potential threats as well. We suggest that you use a reliable malware removal application that will automatically handle all security-related issues.