Do you know what GameSearchMedia is?
GameSearchMedia is a potentially unwanted application. It is also a Chrome extension that comes from a group of similar apps that often catch users by surprise. They are not direct security threats, but there is a reason they are potentially unwanted.
First, they might enter the system accidentally. And second, they might exhibit a variety of behavioral patterns that users might find undesirable and sometimes even annoying. Hence, if you never wanted to have this application, you might as well remove GameSearchMedia from your system today.
Normally, these programs have at least several official distributors. For instance, GameSearchMedia is directly associated with gamesearchmedia.com, and just until recently it could also be found at the Chrome Web Store. However, at the time of writing, the extension's page on the Chrome Web Store was no longer available. Therefore, it would seem that there definitely is something suspicious about this extension, and Google took it down from the Chrome Web Store. Yet, it doesn't mean that GameSearchMedia cannot reach you through other routes.
Aside from the official distribution methods, there are always third-party sources that help GameSearchMedia and other similar apps reach their targets. It is very common for potentially unwanted programs to come bundled with freeware. If you tend to download programs from file-sharing websites, you might have several unwanted programs running in your system. It's actually a good time to scan your computer with the SpyHunter free scanner and see whether you need to remove some potentially harmful threats.
As for GameSearchMedia, it might also come via pop-ups that you encounter when you browse all sorts of sites. It is especially relevant when it comes to webpages that offer free content. Anything from free gaming to free videos are not entirely "free." Yes, you might be able to enjoy the content without paying anything, but to get there, you may have to go through multiple advertisements and pop-ups that the sites have to display in order to make ends meet. And it is those pop-ups that might expose you to GameSearchMedia and other unwanted applications.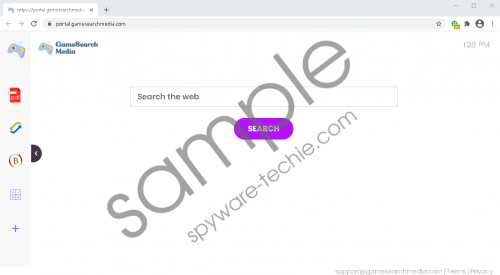 GameSearchMedia screenshot
Scroll down for full removal instructions
Here you might anger that it is possible to close those pop-ups without any difficulty, and you would be right. But there are tons of users out there who are too distracted to notice that they can simply click the X button at the top right corner of the pop-up window. They think that they have to enable notifications to continue with the content they were enjoying, but the moment they do that, they give GameSearchMedia permission to read their browsing history and change their search settings to feed.gamesearchmedia.com.
Technically, these modifications are there to help GameSearchMedia perform at its best, but users often get taken by surprise, and they think that they got infected by a browser hijacker. Again, we would like to reiterate that these modifications are performed with your permission, but if you don't remember adding this extension, you might as well remove it right now.
Another reason it is rather risky to keep GameSearchMedia on-board is the fact that it might indulge in third-party advertising. With all the browsing data it can collect, this extension may expose you to custom commercial advertisements. On the surface, there's nothing wrong with it, but the extension cannot really guarantee that only reliable content will reach you through its ads. Hence, you need to be careful about landing on dangerous sites through the ads that GameSearchMedia displays. And what's the use of living with anxiety all the time if you can simply remove the app and get rid of this anxious feeling?
You can remove GameSearchMedia through the Extensions menu on your browser, or simply by resetting your browser to default. Not everyone would prefer to do that, but please consider the possibility that there could be more unwanted extensions on-board, and you would be removing them all. Also, scan your computer with a licensed antispyware tool to make sure that there are no other unwanted programs installed. Since you're cleaning your system right now, you should totally terminate all the potential threats. Finally, be sure to review your browsing habits so you could avoid similar apps in the future.
How to Remove GameSearchMedia
Open Chrome and press Alt+F.
Select Settings on the drop-down menu.
Click Advanced at the bottom of the page.
Click Restore settings to their original defaults.
Press Reset settings.
In non-techie terms:
GameSearchMedia changes your defaults search settings because it is supposed to provide you with the best search function out there. This extension says it can improve your web search experience, but it is also a potentially unwanted program that could expose you to a variety of potentially harmful content. Hence, it would be for the best to remove GameSearchMedia from your browser as soon as possible. If you have more questions on this issue, feel free to leave us a comment below.