Do you know what Game Wham is?
Game Wham is promoted as a program that enables users to download games or play them online. Well, then why is this supposedly beneficial program showing ads? The truth is that this seemingly useful app is just another advertising-supported program. If you install it onto your computer, you will be flooded with all kinds of offers and advertisements. If you do not want to face them – and you should not, considering that they can be misleading – you need to delete Game Wham right now. The unfortunate thing is that the removal of this adware is not a one-click task. If you uninstall it, you will find leftovers, and eliminating it one component at a time can be tricky. Before we explain how to successfully get rid of this advertising-supported program, we want to provide you with more information regarding it. If you understand how this program works, you might gain the knowledge that will help you prevent the infiltration of similar software in the future.
It is believed that some users download Game Wham from gamewham.com, but our research team has found that many users acquire this adware via third-party installers. Unfortunately, regardless of which source you use, it is likely that this adware will come packaged with various other unreliable programs. We found that the official installer can even introduce you to more ad-supported programs (e.g., Sale Planet by SuperWeb LLC). We have found that DraftFactor, AhoyTraveler, and other similar ad-supported programs are distributed in the same manner. Notably, these programs offer different services and their interfaces are unique; however, they act in the same way once installed. Most users discover Internet Explorer showing ads, and this browser can be launched to represent them without your permission, which is a red flag. Although you can close IE to stop the unwanted ads, this is temporary. The ads will seize showing up only if you remove Game Wham from your operating system. Unfortunately, the ads shown can be very appealing, which is what tricks users into interacting with them.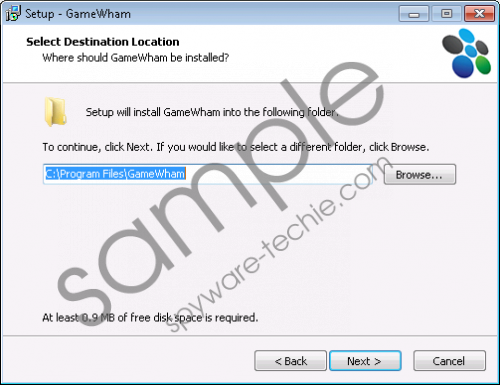 Game Wham screenshot
Scroll down for full removal instructions
In most cases, GameWham – which is launched via a shortcut on the Desktop – promotes sweepstakes. For example, you might be introduced to a prize that you supposedly can win by answering a simple question. Of course, if you provide the "correct answer," you will then be asked to enter personal contact details to be informed about your alleged winning. Most giveaways of this kind are simply used to collect data, and the parties behind them do not even have the intention of providing you with prizes or beneficial services. Unfortunately, this is a scam that can be used to open a security backdoor via your email address (if you share it), as it could be flooded with spam emails carrying other scams or even malware. Beware of offers delivered via vdozz.exclusiverewards.oast.info, thedailysweepstakes.com, and similar servers. Unfortunately, careless interaction with misleading offers could lead to the infiltration of more malicious threats, and your PC might already be infected with plenty of tricky programs.
What do you do when you find a suspicious, undesirable program? It is most likely that you rush to uninstall it. Unfortunately, you cannot fully remove Game Wham by uninstalling it. If you do, you will have to remove the folder in the %ProgramFiles% (or %ProgramFiles(x86)%) directory. We propose a more lengthy method; however, this experience is invaluable. If you are dealing with undesirable software, experience is one positive thing you can take from this. Of course, if you are inexperienced, you should scan your PC afterward to see if you have eliminated all elements of this threat. Furthermore, a malware scanner can detect any hidden threats and reveal infections that might be camouflaged as beneficial software. Use an automated remover to eliminate these threats from your PC.
Delete Game Wham from Windows
Tap Win and E keys together to launch Explorer.
Use the address bar to visit these directories and Delete the GameWham folder:

%ALLUSERSPROFILE%\Application Data\Microsoft\Windows\Start Menu\Programs\
%ALLUSERSPROFILE%\Microsoft\Windows\Start Menu\Programs\
%USERPROFILE%\Microsoft\Windows\Start Menu\Programs\
%APPDATA%\Microsoft\Windows\Start Menu\Programs\
%ALLUSERSPROFILE%\Start Menu\Programs\
%PROGRAMFILES(x86)%
%PROGRAMFILES%

Right-click and Delete the GameWham.lnk shortcut on the Desktop.
Tap Win and R keys together to launch RUN.
Place the cursor into the Open box, enter regedit.exe, and click OK.
Click the Edit tab and select Find.
Find and Delete the 46CADEFA-EE76-488D-ABBF-9E774D3CEB48}_is1 key.
In non-techie terms:
Game Wham, also known as GameWham, is an advertising-supported program that you should erase from your operating system as soon as possible. Instead of providing access to online games, it displays ads, and that is the first sign that this program is unreliable. If you are interested in manual removal, make sure you erase all files without missing any leftovers. You have to be particularly careful when uninstalling this program because you will find leftovers. Although manual removal is great, we encourage you to invest in trustworthy anti-malware software to ensure that other unreliable programs do not attack your PC in the future.