Do you know what Futurro Antivirus Software is?
If you are seeing a strange program running on your PC, which claims that your computer is heavily infected, you should make sure whether this program is not Futurro Antivirus Software because it is a typical rogue application; thus, you should not expect anything good from it. The main purpose of this fake Antivirus tool is to scare you and extort as much money as possible. We definitely do not recommend trusting this application because it will not do anything beneficial. We believe that the best solution would be to remove this rogue application from your system. You should also keep your antimalware tool enabled all the time in order to avoid similar threats in the future.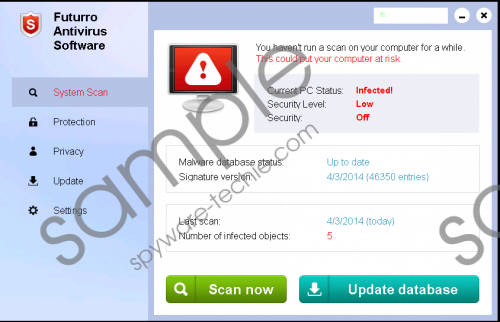 Futurro Antivirus Software screenshot
Scroll down for full removal instructions
Our specialists have found out that Futurro Antivirus Software is not the only one. It is very probable that it replaces Dream Scan Soft, which is a rogue application as well. As they are based on the same template, you can expect them to look very similarly. Both of them include such sections as System Scan, Protection, Privacy, Update, and Settings in their menu. In addition, they both perform a system scan and then state that your system is badly infected with malicious software. However, if you decide to fix all those threats, you will be asked to buy its license. All the alert messages that it will produce are meant to scare computer users. Thus, you should not believe any word of this application.
You should not upgrade the program if you do not want to lose your money. Keep in mind that it is just a simulated security application, which means that it not going to remove any threats. Besides, these threats are non-existent; thus, you will just reveal your credit card information during the purchase. You should know that all these details might be used for unfair purposes and you might even lose all money from your bank account. We believe that it is not worth risking, which is why we suggest that you erase Futurro Antivirus Software.
Keeping the fake program on your system might not only attract different infections on the system, but also it might slow down your computer and do other activities without you even knowing it. What is more, it is very probable that it will not allow you to use the computer freely because it will keep performing the fake scan and providing fabricated alerts. In addition, it will block the access to the internet and other programs. Malware removal tools will definitely erase Futurro Antivirus Software in a blink of an eye. We recommend using SpyHunter because it will protect your system from future threats as well. You can also enter the activation key to disable all the symptoms; however, you should definitely remove the fake application itself.
Activation key:
AA39754E-715219CE
Futurro Antivirus Software removal
Windows XP
Keep tapping F8 when BIOS screen loads.
Use arrow keys to select Safe Mode with Networking.
Click Yes.
After PC restarts, launch RUN.
Type msconfig and click OK.
Click on the Startup tab.
Unselect all the items and click Apply.
Launch your browser and visit http://www.spyware-techie.com/download-sph .
Download SpyHunter.
Install the application and launch the scanner.
Windows 7 and Vista
Restart your computer.
Keep tapping F8 when BIOS loads.
Select Safe Mode with Networking and then tap Enter.
Go to http://www.spyware-techie.com/download-sph and download the malware remover.
Install it and start the scan.
Windows 8
Press the Windows key to access the Meto UI.
Move your cursor to the lower-right part of the screen.
Select Settings.
Click Change PC settings.
Select General.
Go to Advanced startup and click Restart now.
Click Troubleshoot.
Select Advanced options and go to Startup Settings.
Click on the Restart button.
Press F5.
Open your browser and go to http://www.spyware-techie.com/download-sph .
Download the recommended tool and remove Futurro Antivirus Software.
In non-techie terms:
There are plenty of similar programs published nowadays and they are only created in order to earn money from innocent computer users. If you do not want to be the victim of cyber criminals, you should not visit unreliable websites, open spam mails or download programs from unreliable websites. As it has been mentioned above, you should always keep the antimalware tool enable and if you still do not have one, you should acquire it as soon as possible.
Aliases: FuturroAntivirusSoftware.