Do you know what Fullsearching.com is?
Fullsearching.com is the kind of search engine that you do not want to find in your browsers because it could mean that your computer has been infected with a couple of malware threats. According to our researchers, this search engine may not be unreliable itself for the time being and may not pose a threat to your system security, but this could change in the near future. However, the fact that it is present on your computer can indicate that it entered your system in questionable ways and with a number of malicious and potentially unwanted programs. These related threats could put your virtual security at risk; therefore, you should not take this situation too lightly. Although this search engine cannot be labeled as directly dangerous, due to its questionable appearance in your browsers, we suggest that you remove Fullsearching.com and all related potential threats as well. Please read on for more information about this infection and the potential risks.
This browser extension seems to affect Google Chrome and Mozilla Firefox. The most likely way for you to find this search engine in these browsers is that you install a potentially unwanted program called Mustang Browser (mustang-browser.com). This is a Chromium based browser that can infiltrate your system via potentially harmful freeware bundles. This means that you may have visited questionable freeware or torrent sites lately where you clicked on unreliable third-party content. This can easily happen when you land on an unfamiliar page that hosts several third-party advertisements. If you are an inexperienced user, you should become aware that these commercial ads can be disguised and show up as something completely different. For example, such a corrupt ad could appear to be a missing plugin that stops you from seeing a supposed content, a fake download button, or a fake virus alert. Clicking on any of these ads could drop a malicious package onto your computer containing Mustang Browser, this search engine, adware programs, browser hijackers, and potentially unwanted programs. It is also possible that your system was previously infected with adware programs and browser hijackers and that is how you were exposed to corrupt ads or links that resulted in your current infection. In any case, as you can see, finding this search engine in your browsers can be an indication of multiple system security threats. This is why we suggest that you run a reliable malware scanner right after you delete Fullsearching.com.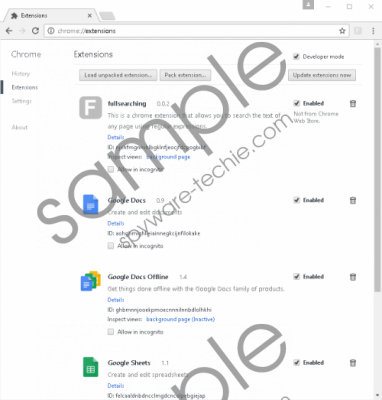 Fullsearching.com screenshot
Scroll down for full removal instructions
When you install this potentially unwanted browser, this search engine is set as your home page in the affected other browsers. Although this search engine looks all legitimate and reliable, you should be aware that it has capability to record your searches, collect information about you, and share these with third parties. This search engine redirects your queries to its own server first and then to a normal Google search results page. For the time being, it seems that the search results are not modified, but Fullsearching.com may start manipulating the results in the near future. This could mean that you may be introduced to potentially unreliable third-party ads and sponsored links sooner or later, which may lead to malicious websites if you click on them. This could bring more malware infections onto you computer but you may also fall for online scams and lose money. If you would like to restore your system security, we advise you to remove Fullsearching.com right now as well as all related programs to be on the safe side.
If you feel up to manual removal, we suggest that you start with running the uninstaller that you can find in the list of installed programs in Control Panel. Once you are there, you should also uninstall the undesirable browser. Then, you need to reset the affected browsers to make sure that no leftover remains so that this potential threat cannot regenerate itself. Please follow our instructions below if you need assistance with these steps. If you want to protect your computer and your files from similar and more dangerous attacks, you should consider using a trustworthy anti-malware security tool. But even when protected by such software, you should make sure that all your drivers and programs are always up-to-date.
Remove Fullsearching.com from Windows
Windows 8, Windows 8.1, and Windows 10
Tap Win+Q and type uninstall a program. Press Enter.
Click on the application and click Uninstall.
Windows Vista and Windows 7
Open the Start menu and select Control Panel.
Open Uninstall a program.
Click on the application and click Uninstall.
Windows XP
Click the Start button and pick Control Panel.
Open Add or Remove Programs.
Click on the application and click Remove.
Remove Fullsearching.com from browsers
Mozilla Firefox
Press Alt+H and open Troubleshooting Information.
Press Refresh Firefox
Click Refresh Firefox in the confirmation window.
Click Finish.
Google Chrome
Press Alt+F and access Settings.
Scroll down and click Show advanced settings.
Scroll down again and click Reset settings.
Click Reset in the pop-up window.
In non-techie terms:
Fullsearching.com is a questionable search engine that can show up in your browsers after you install a potentially unwanted Chromium based browser called Mustang Browser. This search engine seems to operate reliable right now, but this can soon change because it has the capability to inject third-party ads and links into the search results it displays. Another bad piece of news about this search engine is that it may come on board along with malicious threats, such as adware apps, browser hijackers, and potentially unwanted programs that can all pose a threat to your system security. If you want to recover you system from this invasion, you should start by removing Fullsearching.com and all other potentially harmful programs as well. If you prefer automated solutions, we recommend that you download and install a proper malware removal tool that will automatically stop all known malware attacks and clean up your system.