Do you know what FTDownloader is?
FTDownloader is a download manager, which is presented as a fast and easy to use application that can increase the speed of your download sessions. It features a function enabling the user to resume and pause downloads. However, it has been found that FTDownloader promotes various unwanted applications which are already known to malware researchers. The fact that FTDownloader can install some adware application should signal that you should remove the unwanted applications and make sure that the system is protected against various malware and spyware attacks.
The analysis of the download manager has revealed that it can install SweetIM, which is installed as a browser add-on, and change the settings of the browser. When you are offered to replace the presented search engine with delta-search.com, select the custom installation in order to be able to prevent the unwanted alterations. As to SweetIM, the application works on various platforms, including instant messaging applications, emails, and social networking websites. The browser add-on which is regarded as adware, and we recommend that you remove it from the browser as soon as you can. This should be done to prevent the unwanted add-on from monitoring your browsing sessions and sending the information to advertising companies. It is also possible that Firefox will block FTDownloader. If you cannot access the settings of the browser because of the application in question, it is time to do it right now.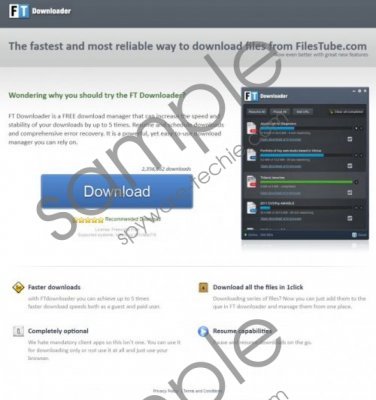 FTDownloader screenshot
Scroll down for full removal instructions
It has been observed that software publishers tend to replace the attached programs with one ones, which implies that it is much better to rely on an automatic removal tool in order to have all the unwanted programs removed when it is necessary.
We recommend using SpyHunter as this application can remove browser hijackers, insecure browser add-ons, adware programs, and many other malicious applications. The software can also save your time as it does not require a lot of attention. Install the application as soon as you can if you want to protect yourself from various computer threats and browse the Internet safely.
In non-techie terms:
FTDownloader is a computer application that can install several unwanted programs. It is presented as a speedy downloader; however, if you want to speed up your downloads, you should start using a reliable application. In order to remove FTDownloader, which is categorized as adware, implement a reliable spyware removal tool.
Aliases: FT Downloader.