Do you know what FreeGamesZone is?
If you like playing online games, we would advise you to stay away from FreeGamesZone because it has not proved to be a reliable and beneficial browser extension. In fact, our researchers have classified it as a potentially unwanted program, or PUP. In all fairness, FreeGamesZone does not pose as a direct threat to your operating system and is not considered an infection. But its presence on your computer might still cause some trouble, not to mention the possibility that it enters your PC in the company of malware programs. We do not think that this extension is useful enough to keep it on your system. As a matter of fact, you would be better off removing FreeGamesZone.
This PUP only affects Google Chrome currently, although we have a sample that still installs in Mozilla Firefox as well. It is possible that Firefox has already blocked this extension and the creators decided to stick with Chrome only – well, until that blocks it, too. FreeGamesZone is available for download from its official website at freegameszonetab.com. When you click on the "Play Now!" button, you will be redirected straight to the Chrome web store. But it is quite likely that most users have not ever visited this website and still have this PUP on-board.
It is possible if they downloaded freeware bundles from suspicious torrent or freeware hosting websites. That is where shady bundles are usually promoted. These packages may be packed with malware applications, including PUPs, adware programs, and browser hijackers. If you are unlucky, you may install the whole pack without even realizing it. Well, you will definitely realize once they start activating. Adware apps and hijackers are rather conspicuous kind. So, if you have noticed anything fishy about your browsing experience lately, such as annoying pop-up ads or altered home page, there is a good chance that your computer has been infected with malware. That is why it is important to run a full system check in order to make sure whether there is any threat hiding on your PC or not. In any case, deleting FreeGamesZone is still the best way to keep your system cleaner.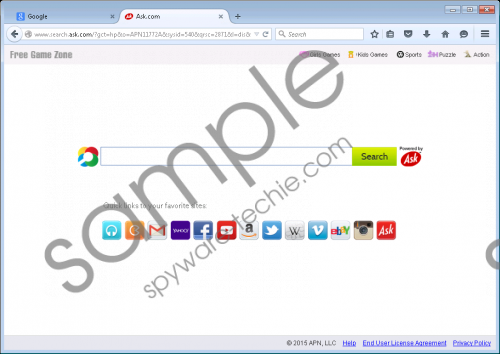 FreeGamesZone screenshot
Scroll down for full removal instructions
This PUP is a Chrome new tab page extension. Once installed, it changes your browser settings to set search.ask.com as your new tab page. This means that every time you open a new tab, this page will come up automatically. FreeGamesZone provides quick links to third-party gaming websites, which are available at the top of the page on a quasi-toolbar. It also provides a third-party search engine, Ask.com, and quite a few easy-access buttons to the most popular sites, including Twitter, Gmail, Yahoo!, and Facebook, below the search box. While this may all sound great, you need to know that this PUP may be able to modify the search results. This means that if you enter your search query, the results page might contain targeted ads and links. There is no guarantee that clicking on those will redirect you to legitimate and safe websites. Why would you risk landing on infected websites that are run by schemers? Why would you keep a tool on your computer that has the potential to expose you to such things? If you agree, it may be time to remove FreeGamesZone from your system.
And this is the part where the sun comes out from behind the dark clouds. If you have made up your mind, all you have to do is remove the unwanted extension from Google Chrome. Simple enough? If you have never done that, please use our guide below. Keep in mind that your computer may still be under attack by malware infections. In order to handle this situation, we recommend the use of a reliable antimalware program that will automatically take care of any threat that may be harming your system. Protect your PC so that you can enjoy a problem-free web surfing experience.
How to remove FreeGamesZone
Google Chrome
Press Alt+F and select Settings.
Choose Extensions in the left panel.
Select the extension and click on the recycle bin.
Click Remove in the confirmation window.
In non-techie terms:
FreeGamesZone is a Chrome extension that has been labeled as a potentially unwanted program because it has proved to be potentially unreliable. The extension offers you a search tool that might display altered search results that contain customized sponsored links. It is also possible that this extension enters your computer in a free software bundle, which is a questionable distribution method for a reason – bundles may contain malware infections. In order to nip the situation of potential harm by infections in the bud, we recommend that you remove FreeGamesZone from your computer. While it is very easy to do that, due to the possibility of other, more dangerous threats being present, we advise you to install a trustworthy malware removal tool.