Do you know what Free-fix-pc-now.be pop-up ads are?
If you have noticed lately advertisements or warnings that try to make you download all kinds of updates, you may have been exposed to Free-fix-pc-now.be pop-up ads. It is important for you to know that these ads and the warnings are all fake, and they are only there to deceive you. You need to be very careful with these pop-up ads coming from the Free-fix-pc-now.be adware server. You may easily endanger your computer by clicking on these ads. If you want to keep your system safe, removing Free-fix-pc-now.be pop-up advertisements is the only way to go. But why are you seeing these at all? What is their source? Without answering these questions, you will not be able to protect your PC effectively. From our article you will find out all you need to know.
So, let us see how it is possible that you find these Free-fix-pc-now.be pop-up ads on your computer screen while you are peacefully surfing the web. There are two options, as a matter of fact. First, if you have adware infection on your computer and second, if you are on a website that uses the Free-fix-pc-now.be adware server to show third-party advertisements on its pages. Whichever is your case, the most important thing to remember is never to click on these ads.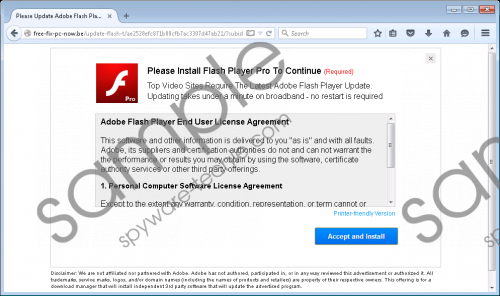 Free-fix-pc-now.be pop-up screenshot
Scroll down for full removal instructions
Once you click, you may be redirected to a website or page that is run by cyber criminals. You might be deceived to install "vital" updates for your operating system or your Adobe Flash player. These schemers even use authentic-looking installer screens that can easily convince you that you are doing the right thing, and you may also feel like "Thank God that I was warned to install this update; otherwise…" Well, otherwise they may not be able to infect your computer or gain access to it. You need to realize that you really have no other options here: You must remove Free-fix-pc-now.be pop-up ads from your computer.
If you are introduced to these misleading ads because your system has been infiltrated by adware infections, you need to address this issue ASAP. Do you know why? Because adware is most commonly distributed in free software packages that may be packed with a number of unpleasant "surprises" in the form of adware programs, browser hijackers, and potentially unwanted programs. None of these are good news if they land on your PC since all of them may expose you and your system to potentially harmful third-party content to different extents. Therefore, it is crucial that you scan your PC with a powerful online malware scanner to see if your system is infected with adware or other malware. If you want to get rid of Free-fix-pc-now.be pop-up ads, you need to delete all the adware found on your computer.
Of course, it is also possible that you land on a website that either randomly or knowingly uses the Free-fix-pc-now.be adware server to show ads to its visitors. In this case, you need to be careful not to believe these ads however convincing they may be. In the future try to stay away from such sites to prevent any encounter with unreliable advertising.
Removing Free-fix-pc-now.be pop-up ads from your computer may be a cumbersome job if you decide to go about it manually. If you follow our guide below, you can easily do that. But the thing is that there may be a number of adware programs already on your system. Although you may find and identify all of them in Control Panel, there is no guarantee that you can erase all their components. Therefore, we suggest a much simpler and safer solution: Install a trustworthy malware remover. With the powerful help of such a security tool, you can automatically handle all infections that may be causing problems to your system even while you are reading this article. You need to ask yourself this question: Does my computer and my files not deserve this kind of protection?
How to remove Free-fix-pc-now.be pop-up from Windows
Windows XP
Open the Start menu and access Control Panel.
Access Add or Remove Programs.
Click on the application and click Remove.
Windows Vista & Windows 7
Access the Start menu and go to Control Panel.
Click Uninstall a program.
Select the application and click Uninstall.
Windows 8 & Windows 8.1
Tap Win+Q and type in Control Panel. Hit Enter.
Select Uninstall a program.
Right-click on the application and choose Uninstall.
In non-techie terms:
Free-fix-pc-now.be pop-up advertisements are totally false and deceiving warnings mainly about driver updates. Clicking on these ads may get your computer infected with more serious malware infections. It is already possible that there are some adware programs on your system that generate these ads. It is important for you to remove Free-fix-pc-now.be pop-up ads if you do not want to harm your system. In order to do that, you need to get rid of all adware programs that may be on your PC. We recommend downloading and installing a reliable antimalware tool that will automatically tackle all your security issues and safeguard your system at the same time.