Do you know what Follow Rules is?
Follow Rules is an adware application that is part of the SuperWeb group. It is practically identical to Ace Race, Dynamo Combo, Solution Real, and many other programs in the group. Follow Rules is promoted as a useful tool that can improve your online searching experience, but the problem is that the application does not do anything it is supposed to do. If you care about your system's security, you will remove Follow Rules immediately because the adware application could inadvertently lead you to corrupted websites that distribute malware.
That is not the application's purpose, however. The reason Follow Rules enters your computer is money, but it does not try to steal it like a rogue antispyware program would. Follow Rules simply makes use of a browser extension to gather intelligence on your web browsing habits. This information is necessary because the adware needs to generate customized commercial advertisements. Follow Rules ads pop up into your screen when you access popular online stores, like Amazon, eBay, BestBuy, Walmart and so on. These ads are supposed to contain information on various coupon deals and discount offers, but you should NEVER click them.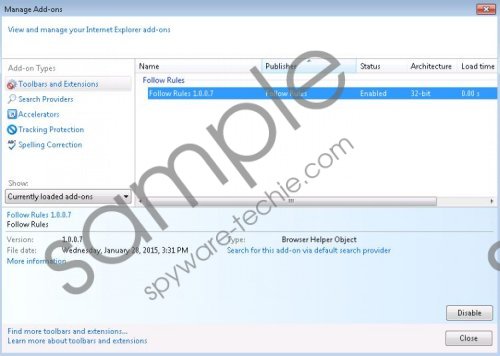 Follow Rules screenshot
Scroll down for full removal instructions
If we take a look at the official website for Follow Rules via followrulessoftware.com, we will see that it is highly dysfunctional because the download button does not work. What's more, the privacy policy posted on the website says that Follow Rules is not responsible for the third-party content that you encounter through the ads. In other words, if you get exposed to dangerous websites or potential computer security threats, that is not Follow Rules' fault.
If that weren't enough, we cannot say that Follow Rules is a malicious infection. Although this program presents us with some specific issues, and it cannot be downloaded directly, it is still far from being a genuine malware application. The thing is that users download and install Follow Rules themselves when they roam torrent and other file-sharing websites. Just like other programs from the SuperWeb family, Follow Rules gets distributed bundled with freeware, so most of the time users do not realize they install more than just one application on their computers. Nevertheless, the app does not enter the system surreptitiously, and it is the users themselves who initiate the installation.
Luckily, it is rather easy to remove Follow Rules from the computer. The program can be uninstalled via Control Panel, and it should be enough to terminate all of its files. However, do not forget that Follow Rules comes with additional apps that might prove to be detrimental to your system's security. Thus, you should consider investing in a legitimate computer security application that will ensure your computer's safety in the future.
How to uninstall Follow Rules
Windows 8 & Windows 8.1
Move the mouse cursor to the bottom right of your screen.
When the Charm bar appears, click Settings and go to Control Panel.
Select Uninstall a program and remove Follow Rules.
Windows Vista & Windows 7
Click the Start menu button and go to Control Panel.
Open Uninstall a program and remove Follow Rules.
Windows XP
Open the Start menu and select Control Panel.
Go to Add or remove programs and uninstall Follow Rules.
In non-techie terms:
Follow Rules is an annoying application that will do you no good. It will slow down your browser and expose you to a number of potentially corrupted pop-ups. Remove Follow Rules immediately and save yourself the trouble of having to deal with various unwanted consequences.