Do you know what FixMyPC is?
FixMyPC is a potentially unwanted application that is a scam program. This means that this piece of software is absolutely useful, and it does not deliver what it promises. You must have installed this application accidentally; otherwise, it is really hard to imagine why you would want to keep such a program on your PC. Open the Control Panel at once and remove FixMyPC for good. If you notice any other unfamiliar application, terminate it as well. Such programs have a tendency to travel in a pack, so if you are about to delete one of them, you might as well terminate them all.
The guys in our security lab say that the official website for this program can be accessed via tweakbit.com/fix-my-pc. However, it is not clear whether the website is available all of the time. For instance, we have tried to open the page several times, and sometimes the connection simply time out, while a few other times we were able to go to our destination. Due to such unreliable server performance, we believe that FixMyPC is usually distributed in software bundles via third-party websites. Needless to say, you may also download the application from the official page if you can, but it is not too often that users get such applications from their direct sources.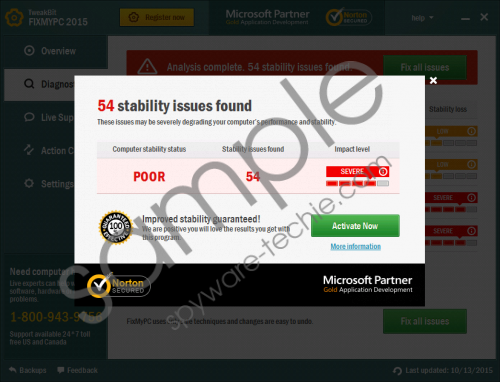 FixMyPC screenshot
Scroll down for full removal instructions
For instance, if you love downloading something from file-sharing websites, you can be sure that sooner rather than later you will be exposed to an entire list of potentially undesirable applications. The problem is that, for the most part, you may not be aware that the programs you are about to download are potentially harmful or absolutely useless. Thus, if you want to avoid such applications like FixMyPC, you should be really careful when you install freeware apps. Do take the time to read every single step on the installation wizard. For all it's worth, you might be given a chance to avoid this application. It is far better to prevent FixMyPC from entering your PC than deal with it later on.
When this application gets installed on your system, it performs particular modifications in the Windows Registry that allow the app to auto-start whenever you turn on your PC. Therefore, the next time you turn on your PC, you will be created with the FixMyPC's scan window. The program takes a full system "scan" in a blink of an eye. Then, once the analysis is complete, the application informs you about the "stability issues found." It usually says that you have severe issues with missing software and other common registry issues. However, the errors presented in the program's report will be provided even if your computer is absolutely clean.
What's more, the so-called errors are nothing but junk files and empty registry entries that cannot harm your system. In reality, FixMyPC cannot provide you with anything useful. The only thing it wants you is your money. The program says that it will help you fix all the system security issues if you registry the program (or pay for the licensed version).
Keep your money to yourself and remove FixMyPC immediately. This program is completely useless, and you should not suffer it any longer. Should you encounter any issues while trying to get rid of this application, please leave us a comment.
How to Remove FixMyPC
Windows 10 & Windows 8.1
Right-click the Windows icon on the left corner of your taskbar.
When the drop-down menu appears, click Control Panel.
Go to Uninstall a program and remove TweakBit FixMyPC.
Windows Vista & Windows 7
Click the Start menu and select Control Panel.
Access Uninstall a program and remove TweakBit FixMyPC.
Windows XP
Open the Start menu and click Control Panel.
Navigate to Add or remove programs and uninstall TweakBit FixMyPC.
In non-techie terms:
FixMyPC may look like the best system optimization tool out there, but the truth is that this program is worthless. It will only slow down your system and spam you with fake security notifications. The application will try to swindle you out of your money by pushing you into purchasing the full version. Do not succumb to these dirty tactics. Remove FixMyPC today, and then invest in a licensed antispyware program to protect your PC from other uninvited guests.