Do you know what Fireplayer Ads is?
If you ever come across a program entitled Fireplayer Ads, we advise you to refrain from it at all costs since it is classified as a potentially unwanted program. If you happen to already have this questionable program up and running on your PC, we advise you to execute its complete removal right away. That is so mostly because this devious piece of software can make surfing the web a bothersome and annoying experience, to put it lightly. Unfortunately, a lot of users end up obtaining and installing this program because it is advertised as a remarkable media player that provides access to a lot of streaming sites. To help you maintain a secure and clean operating system, we provide information regarding the distribution of this potentially unwanted program and a few virtual security tips. Also, in this article, you will find further information regarding the overall functionality of Fireplayer Ads and its comprehensive and easy-to-follow removal guide.
Fireplayer Ads acts quickly and aggressively once it gains full access to your operating system. Firstly it launches a background system process, which initiates a connection to an adware server. Once such connection is established, you will start seeing devious interruptions while surfing the web. In most cases devious online content coming from an adware server manifest as third-party pop-ups, coupons, and ads. One of the most annoying things about such functionality is the fact that all the undesirable content is presented randomly. It should be more than obvious that constant unwanted interruptions will make surfing the web a frustrating experience. Basically, for as long as this potentially unwanted program will be active on your PC, you will have to deal with tons of questionable ads, pop-ups, and coupons, every single time you will decide to surf the web. Thus, surfing the web the way you like it is out of the question. In severe cases, the amount of such content could make your web browser crash without any warning. The only way to break the connectivity to an adware server to completely remove Fireplayer Ads from your operating system. If you fail to do so, the invasive content will continue to bother you. To delete every single bit of this potentially unwanted program in just a few simple steps, make sure to follow the detailed removal instructions that we present below.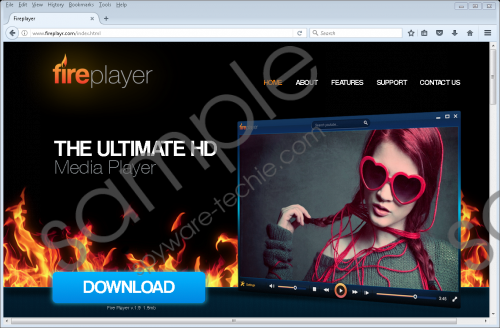 Fireplayer Ads screenshot
Scroll down for full removal instructions
While Fireplayer Ads is not malicious, it still should not be fully active on your PC. It is crucial to note the fact that this potentially unwanted program could be spread via bundled installers, which are infamous for being frequently used by malware developers to spread their dubious applications. Thus, if you already have this suspicious application active on your PC and you did not download it from its official website, make sure to analyze your entire operating system for other potentially harmful programs. If you wish to maintain a fully secure at all times, you must take a couple of preventative steps. First and foremost, you must install a professional antimalware tool, if you do not have one already. Such a tool is the most important part of your virtual security since it can detect and delete any virtual threat automatically. Besides such a tool you need to also practice safe browsing habits. Make sure to avoid all unauthorized third-party download websites since they are the primary source of bundled installers. Also, you should pay as much attention as possible to every installation procedure because you could come across a chance to cancel the setup of some of unknown or undesirable program. Finally, be sure to always learn as much as possible about any program that you wish to have active on your computer before even downloading it because cyber crooks often employ misleading marketing techniques to lure naive users into acquiring their suspicious programs. These rather simple preventative steps will make your operating system virtually unbreakable.
Fireplayer Ads can be removed rather easily. All you need to do is follow the detailed instructions that we present below. Make sure not to skip any steps as that could lead to an incomplete removal, meaning that some leftovers of this potentially unwanted program could still be active on your PC. In such a case due to the traces, the suspicious content could continue to flood your web browser on a daily basis. To be sure that no leftovers of Fireplayer Ads are active on your PC, make sure to double-check your entire operating system for anything associated with it as soon as you are done with the removal guide that we present below.
How to remove Fireplayer Ads from your PC
Open your File Explorer.
Navigate to C:\Program Files (x86).
Select a folder entitled FirePlayer and then tap the Delete on your keyboard.
Right-click your Recycle Bin and then select the Empty Recycle Bin option.
In non-techie terms:
If you happen to find manual removal a bit too complicated, do not worry. Malware experts working our internal labs have crafted an alternative removal guide. By following these instructions you will remove Fireplayer Ads in a fully automated manner.