Do you know what FF Tasker is?
FF Tasker is a browser plug-in that works only on Mozilla Firefox. The plug-in is supposed to provide you with some useful function that should improve your overall web browsing experience. However, computer security experts say you should remove FF Tasker from your system as soon as possible because this plug-in is just an adware application. Adware programs intend to make easy money through the pay-per-click system as they redirect you to affiliated websites. It might result in various computer security issues, especially if FF Tasker gets exploited by cyber criminals, so you should not ignore the potential problem.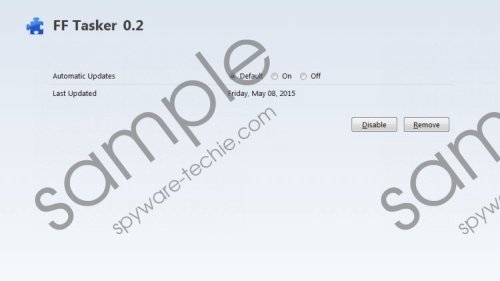 FF Tasker screenshot
Scroll down for full removal instructions
No matter what kind of service FF Tasker might promise to give you, the point remains that this application is an adware program. Therefore, the application will collect information on what websites you visit and what you search for on the Internet. FF Tasker does that in order to generate customized advertisements. The advertisements themselves are not created by the adware application. FF Tasker outsources the advertisement content from toptab.net. With this, we can see that FF Tasker promotes third-party content. It is obvious that the application cannot check whether the content is reliable or not, so if you click any of the FF Tasker ads, you click them at your own risk.
It is very likely that you installed FF Tasker accidentally when you downloaded some freeware app from a third-party source. Once this application has enough information about your web browsing history, it starts playing audio advertisements on affiliated websites. What's more, our research shows that FF Tasker can perform click frauds through the Mozilla Firefox web browser. This means that if the program gets exploited by cyber criminals, FF Tasker can be used as a malware distribution tool.
This is the kind of a situation you have to avoid at all cost. Please follow the instructions below to remove FF Tasker from your computer as soon as possible. You cannot uninstall the application manually via Control Panel, but you can delete its files from the Program Files directory. When you are done with the manual removal, please scan your PC with a diagnostic scanner to search for other potential threats.
When it comes to adware applications, they all share similar distribution methods. Adware apps like FF Tasker often come in software packages. Therefore, there is a good chance that you have more unwanted applications on your computer. You need to remove all the unwanted programs without any further ado, at the same time safeguarding your system from similar threats.
How to Remove FF Tasker
Open the Start menu.
Type %PROGRAMFILES% into the search box and press Enter.
Locate the FFtasker folder in the directory.
Delete the folder and all of its contents.
Open the Mozilla Firefox browser.
Press Ctrl+Shift+A and the Add-ons manager tab will open.
Disable and remove FF Tasker from Extensions.
Restart your browser.
In non-techie terms:
FF Tasker is a potential computer security threat that should not be overlooked. You have to remove FF Tasker from your system at once because this application can be used as a malware distribution tool. There might also be more unwanted programs on-board, so in order to be sure that your computer is protected from harm, do invest in a legitimate antispyware application.