Do you know what Fastplayer is?
Fastplayer is a potentially unwanted application available at fastplayerpro.com. Depending on your browser's security settings, you may not be allowed to download Fastplayer on your computer, and there is a decent reason behind it! Fastplayer is associated with Omiga-Plus browser hijacker, and it could easily expose you to unreliable third-party content because this program is known for displaying commercial advertisements. Commercial ads are not malicious by themselves, but they could be embedded to unreliable content. Therefore, the sooner you remove Fastplayer from your computer, the better.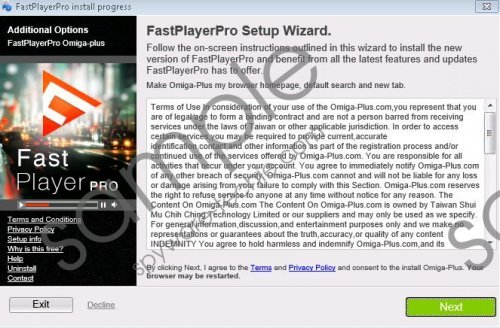 Fastplayer screenshot
Scroll down for full removal instructions
As it has been mentioned in the first paragraph, it should be possible download Fastplayer at the main homepage. Generally, downloading programs from their official sources is safer because then they do not get bundled with additional programs. At least this is how it should be. However, even if you were to download Fastplayer at the main homepage, the installation wizard would offer you to install Omiga-Plus as well. At first sight, this search engine may seem like a decent search provider, but it reality it is widely regarded as a browser hijacker that modifies your browser's settings and exposes you to potential threats.
Needless to say, the main homepage is not the only distribution source. It is far more likely that users install Fastplayer bundled with freeware when they download programs at third-party file hosting websites. There is an entire list of adware programs and even browser hijackers that may carry Fastplayer in their installer file. Our research team suggests that this potentially unwanted program may arrive together with RocketTab, SpeedChecker, StormWatch, MyPCBackup, etc. There are many applications that often install additional features and programs onto your computer. If you notice that your PC operates slower than the usual, or if you are constantly assaulted by a mass of commercial ads, it is about time to scan the system for the likes of Fastplayer.
Technically, Fastplayer should help you create playlists from your favorite online videos and other media files saved on your hard disk. However, this function is highly overshadowed by all the potential threats that come with Fastplayer and the program's associations with unreliable apps. We recommend that you uninstall Fastplayer from your computer immediately, and then scan it with a licensed antispyware application.
It is very likely that you have more unwanted programs on your computer, so it would be for the best to terminate them all at once. If you have any further questions, you can leave us a comment and do not forget that acquiring a reliable computer security tool is one of the best answers to your computer security problems.
How to uninstall Fastplayer
Windows 8
Move mouse cursor to the bottom right of the screen.
Wait for Charm bar to appear and click Settings. Go to Control panel.
Open Uninstall a program and remove Fastplayer.
Windows Vista & Windows 7
Open Start menu and click Control panel.
Go to Uninstall a program and remove Fastplayer.
Windows XP
Click Start menu button and go to Control panel.
Select Add or remove programs and uninstall Fastplayer.
In non-techie terms:
Fastplayer is a program that often gets installed on target computer together with a list of unwanted and potentially dangerous applications. You ought to remove this program immediately. For alternative software remove method, you can always refer to the instructions below this description.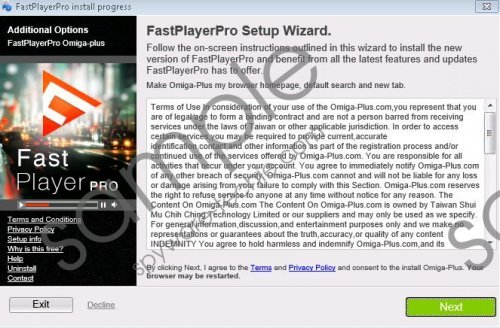 Fastplayer screenshot
Scroll down for full removal instructions