Do you know what Faster Web is?
Faster Web is not your typical adware application. It is, in fact, very intrusive, so it will continue to frustrate you until you remove it. Apart from its ads being very irritating, this application poses somewhat of a threat to your computer's security, because its advertisements are supplied by largely unknown third-party advertisers. The danger is that some of the ads may contain malicious links to infected websites. However, that is certainly not always the case, so we rank Faster Web as a mildly malicious application. But you should delete at you earliest convenience.
This application does not have a promotional website, and it is not digitally signed by any company. And, in cases when it is signed, we hear that the publisher names are fake. So the identity of the program's developers remain a mystery. As far as its dissemination methods are concerned, we think that Faster Web is bundled with other unreliable applications that are hosted on shareware websites. Our researchers have uncovered that Faster Web is currently bundled with a potentially unwanted program called OverLook Crawler. If this application is bundled with malicious programs, then it can only be found on low-grade shareware websites that feature various cracks, keygens, and pirated software. But more often than not Faster Web can be found on legitimate freeware websites, such as Software.informer.com, Brothersoft.com, and so on.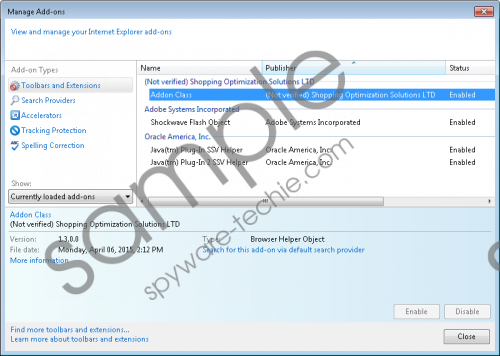 Faster Web screenshot
Scroll down for full removal instructions
The main objective of any ad-supported application is to generate advertising revenue. Some programs are more subtle, while others are extremely intrusive. Faster Web leans more towards the intrusive side, because not only does it show commercial ads, but it opens a promoted website in a new tab every time you click a link. This kind of behavior makes browsing unbearable, so you ought to delete Faster Web. The ads that it shows on random pages that you visit come in the form of coupons, pop-ups, banners, and so on. This is very typical and uninventive, to say the least, but that is good, because you can easily distinguish legitimate content from ads that try to blend in with the website.
It is also possible that Faster Web can collect information about your browsing activities in order to maximize their profits, since the collected information is used to generate personalized ads. The application might collect information that includes but is not limited to approximate geographical location, browser type, computer specifications, browsing and search history, and personal interests. It is also likely that the developers will share this information with affiliated third-parties, partner websites, governments, and so on. So you might want to keep whatever you are interested in a secret, because there is no way of knowing how this information will be used.
It is obvious that Faster Web is a bad application that will not improve your web browsing. It is, however, very beneficial to its creators, as they make money off it. The content presented using various forms of ads is quite irritating and distracting, and the constant opening of new tabs is just intolerable. So we encourage you to remove Faster Web if you have not already. If you do not know how to do that, then consult our removal guide.
How to remove Faster Web
Windows 10
Right-click on the Start menu.
Click Control Panel and go to Uninstall a program.
Identify Faster Web and double-click on it.
Uninstall.
Windows 8/Windows 8.1
Open the Start Screen.
Enter Uninstall in the search box and then go to Settings.
Select Uninstall a program.
Identify Faster Web.
Click Uninstall.
Windows 7/Windows Vista
Click Start.
Select Control Panel.
Click Uninstall a program.
Identify Faster Web.
Click Uninstall.
Windows XP
Open the Start menu.
Click Control Panel.
Click Add or Remove Programs.
Identify Faster Web.
Click Uninstall.
In non-techie terms:
Faster Web is one program you can really do without. This ad-displaying application will flood your browsing with undesirable advertisements of unknown origin. The ads can pose a threat to your computer's security, so you should move in quickly to remove Faster Web before it can deliver any unpleasant surprises.