Do you know what FakeMsMessage is?
FakeMsMessage falls into the category of malicious programs (malware). In most cases, it enters systems without permission and starts acting immediately. Our researchers who have tested this malware say that there is a possibility that the primary aim of FakeMsMessage is to extort money from users. It should show a pop-up asking to pay a ransom for gaining access to the system; however, the popup.exe file fails every time this threat tries to display the pop-up. Do not worry; FakeMsMessage will not do anything bad for you apart from not allowing to you to surf the Internet and showing fake alerts. You can fix that too very quickly – you just need to remove FakeMsMessage from the system. This will definitely not be easy because this threat starts the moment Windows loads up and it cannot be removed via Control Panel like any other programs. Do not worry; we are going to help you with that in this article.
FakeMsMessage will immediately kill explorer and the processes of all the browsers, including Internet Explorer, Google Chrome, and Mozilla Firefox. In other words, you will not be able to use them. After doing that, it launches CMD (Command Prompt) and a simple script in order to show a warning message in a blue window. You will probably see a message claiming that "The Windows Subsystem Process terminated unexpectedly" but other text might be written in the message too. As has already been mentioned, FakeMsMessage should originally show a message asking users to pay a ransom as well; however, there is basically no doubt that you will not see it now. We believe that system restart will not help you to gain access to explorer and your browsers because FakeMsMessage launches together with Windows and kills their processes. The only thing that you can do about that is to eliminate FakeMsMessage from your system completely.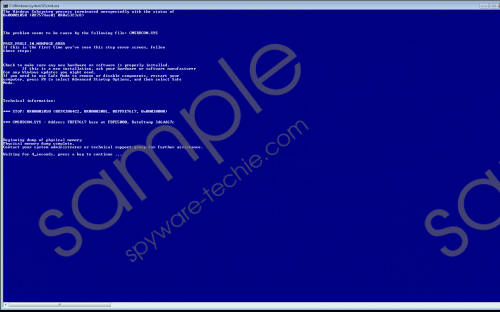 FakeMsMessage screenshot
Scroll down for full removal instructions
Even though FakeMsMessage is considered to be a primitive malware, specialists still say that this infection enters systems like other more serious threats. There is a possibility that you have downloaded it together with another unreliable program from a third-party web pages or torrent websites, you might have clicked on some kind of bad link, or you have just simply opened an infectious email attachment. There are hundreds of malicious applications on the web. You can prevent them from entering the system by installing a security tool. You should surf the web more carefully too in the future.
Less experienced computer users should not even try to implement the manual FakeMsMessage removal because this is really hard to do that. As our specialists have noticed, you can only delete this threat by removing Popup.exe, winoneBat.bat, WinoneApp.exe (or WinKavApp.exe) files. You can find them in WinKav or winone folders in the %appdata%\local location. We have prepared the instructions for you in order to help you do that. If you find this too difficult, scan your system with SpyHunter in order to erase FakeMsMessage automatically. This security tool will erase threats that exist on your PC and it will allow you to use your PC freely again.
Delete FakeMsMessage
Tap Ctrl+Alt+Del simultaneously and open the Task Manager.
In the list of processes, find the popup.exe process, right-click on it, and click End Process.
Open your Task Manager once again.
Open the Applications tab.
Click New Task.
Enter explorer and click OK.
Go to the %appdata% directory and open Local.
Find WinKav or winone folder.
Open it and delete Popup.exe, winoneBat.bat, WinoneApp.exe (or WinKavApp.exe) files.
Empty your recycle bin.
In non-techie terms:
We do not think that it is enough to simply remove the files of FakeMsMessage manually because there is a possibility that other undesirable programs are installed on your computer too. To find them all, scan your system with an automatic malware remover.