Do you know what Exocrypt Ransomware is?
Specialists have discovered a new ransomware infection Exocrypt Ransomware. It seems to be still in development because it encrypts files in only one specific folder (C:\Users\Forged\Desktop\Stuff\C#\XTC Decrypt0r\XTC Decrypt0r\bin\Debug\Files to encrypt) ordinary users would not even have. It does not mean that you cannot encounter its finished version encrypting files on the entire affected computer in the future. The entrance of the ransomware infection is always bad news because they encrypt almost all files on victims' computer. If you encounter the version of Exocrypt Ransomware analyzed by our specialists, you might not find a single file encrypted; however, if the updated version ever slithers onto your computer, we are sure you will find your pictures, documents, music, and many other files locked completely. Ransomware infections lock users' files so that they could obtain money from them, and we are sure that Exocrypt Ransomware is no exception. If your files have already been encrypted by this threat, make sure you do not pay money to its developer. We cannot give you a promise that you could unlock your files in an alternative way, but we are 100% sure that paying money to malicious software developers is never a good idea because, first, you might not get the tool to unlock your files from them. Second, they will never stop developing and spreading malware if they find out that they can easily earn money with the help of malicious applications.
Even though the analyzed version of Exocrypt Ransomware encrypted only one folder during research, there is no doubt that this infection has been developed seeking to obtain money from users, and it is very likely that cyber criminals will start spreading it actively soon. This infection should append the .xtc filename extension to all files it encrypts. It also opens a window with a message for users. Users find an explanation answering the question why so many files can no longer be accessed there. Additionally, they find out what they can do to change this. The ransom note tells users that they "must pay a small fee to the following bitcoin address" if they want to get their files decrypted. Ransomware infections are usually programmed to use strong encryption algorithms, so the chances are high that there will be no other ways to unlock files. It does not mean that paying money to cyber criminals is a good idea. You should never send money to crooks because they will take it but might not give you anything in exchange, e.g. the decryption tool for unlocking personal files.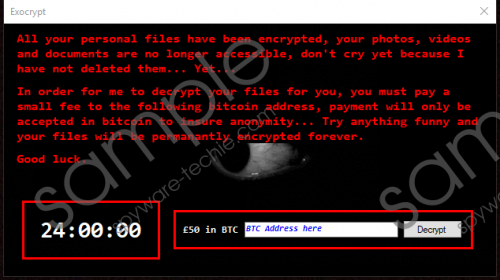 Exocrypt Ransomware screenshot
Scroll down for full removal instructions
Exocrypt Ransomware is not distributed actively. As mentioned, it is not even working properly yet. Of course, the chances are high that crooks will start spreading it actively in the near future, so the worst you could do is keeping your system unprotected. It is hard to say how Exocrypt Ransomware will be distributed once it is finished, but our specialists believe that it should not differ much from other threats categorized as crypto-malware. To be more specific, according to researchers, it is very likely that it will also be distributed as an attachment in spam emails. The malicious attachment itself might look like an important document to make sure more users open it. You will surely reduce your chances of getting infected with malware if you stop opening spam emails and their attachments, but this might not be enough to ensure the system's protection, so you should have security software installed on your PC too.
You must delete Exocrypt Ransomware fully from your computer even though it is not one of those infections that make modifications so that they could start working on system startup automatically. It means that you will only need to kill all suspicious processes using your Task Manager and then delete recently downloaded files. The alternative solution to the problem would be scanning the system with an antimalware scanner.
Remove Exocrypt Ransomware manually
Press Ctrl+Shift+Esc.
Check all active processes under Processes.
Kill suspicious processes.
Remove recently dropped files from the following directories:
%USERPROFILE%\Desktop
%USERPROFILE%\Downloads
%TEMP%
In non-techie terms:
Exocrypt Ransomware belongs to the group of crypto-malware, but it is still in development, so it should not cause you problems if you encounter this unfinished version. Unfortunately, if its new version ever slithers onto your computer, the chances are high that all the most valuable files, including pictures, documents, videos, and music will be completely locked. Ransomware infections try to extract money from users, but you should not send a cent to cyber criminals because you do not know whether something will change once you make a payment, i.e. whether you will gain access to your files.