Do you know what Exciteday.com is?
Exciteday.com is not an exciting search provider because it is incapable of serving the most basic function that search providers are created to fulfill. Our research team has tested this tool and found that it does not provide its users with a useful browsing experience. Instead of showing search results that link to sites answering to your search keywords, Exciteday.com shows the same links over and over again, which suggests that it is just an advertising tool. Even if the links shown do not route to malicious sites, it is clear that the strange search tool requires removal. You can remove Exciteday.com using the tips and tricks presented in this report.
Hotsearchresults.com, Searchingrightnow.com, Reeturn.com, Resultforquery.com, and many other strange Exciteday.com clones are identified as browser hijackers because they change the homepage settings without permission. We do not dismiss the possibility that users will have the option to refuse or accept this search tool, but it is likely that it will corrupt browsers as well. If you find Exciteday.com installed, you must examine your operating system to see if other malicious programs exist as well. If they do, you must think about their removal as well. In fact, you might have to delete the infections installed along with the hijacker before you can delete the hijacker itself.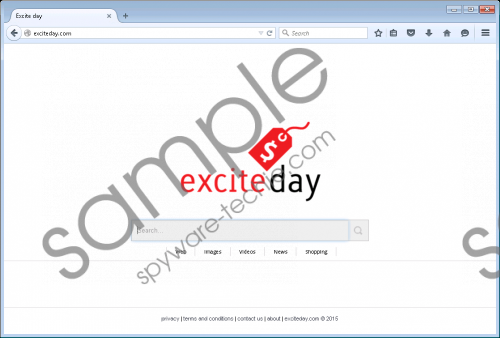 Exciteday.com screenshot
Scroll down for full removal instructions
Users often underestimate the power of tracking cookies. These cookies can be installed along with Exciteday.com, or you could attract them by interacting with the advertisements shown to you. Although most cookies are relatively harmless because all they do is track your interaction with ads, sites, and software, some cookies are malicious because they can collect more sensitive information. Since we cannot guarantee that the parties representing ads via Exciteday.com are reliable, we advise removing their cookies. Of course, we recommend removing the cookies of Exciteday.com as well. Note that you can set the browser settings to warn you about incoming cookies.
We can teach you how to remove Exciteday.com. That is the easy part. However, further protection of your operating system is much more difficult to teach. If you clean your system from malicious programs, new threats could attack, unless you take the necessary security measures. You can install a full-time security tool to protect your Windows operating system, but you have to be careful yourself. Do not download unfamiliar software, do not visit malicious websites, and do not allow cyber criminals to scam you. If you take care, we are sure that you will not need to worry about malware once you delete Exciteday.com and the associated threats.
Remove Exciteday.com from Windows
Remove from Google Chrome
Tap Alt+F, select Settings, and move to the On Startup menu.
Mark Open a specific page or set of pages and click Set pages.
Identify the URL of the unwanted search tool, delete/edit it, and click OK.
Remove from Internet Explorer
Tap Alt+T, select Internet options, and click the General tab.
Delete/edit the URL of the undesirable Home Page and click OK.
Remove from Mozilla Firefox
Tap Alt+T, select Options, and navigate to the General menu.
Delete/edit the URL representing the Home Page of your browser.
In non-techie terms:
Exciteday.com is a hijacker that instead of helping you find information spies on you and exposed you to ads. The removal of Exciteday.com is important, but we cannot stress enough how important it is to take care of your operating system's protection as well. Once you change the unwanted homepage and delete malicious programs, you must install a security tool that will ensure full-time protection. If you want to make the operation easier, install an automated malware remover that can protect your Windows system after cleaning it from malware.